Being a wife, mother, and entrepreneur, I struggle with carving out some me-time to refresh and refuel. I can often find myself running on empty and I think we all know that's good for no one. Let's be real… There's some truth in the saying, "if mama ain't happy, ain't nobody happy."
If you're anything like me, summertime with the kids only makes this MORE difficult. The responsibilities stay the same. You know… the grind of feeding and cleaning and just working to keep your little humans alive.  But now it's amplified by the older ones being home. All. Day. Long. Fighting. Because they've spent too much time together and it's rained too many days in a row and you're stuck inside four walls and they're so bored that they decide the only option is to push each other's buttons.
And you just need to escape for a bit right? Here's how.
If you follow us on Facebook or Pinterest, you can browse through our posts and see ideas for killing summer boredom with your littles. While your youngest ones are napping, I challenge you to give your older ones an activity to do on their own, set down your responsibilities, and pick up a book to refresh and refuel. To get you thinking on what to read, I thought I'd share what I've been reading…
Amy's Reads
At most times, you'll find me in the middle of three different books.  One spiritual, one educational, and one just for fun. That may make me sound like a book worm, but in reality, it'll probably take me 6 months to get through all three. I just like the variety and I like to choose what I'm in the mood for on that particular day.  And in an effort to take better care of myself, I've been focusing on picking up speed by spending 10 or more minutes a day relaxing with a book. Here's what's been on my nightstand…
Spiritual
Love Lives Here by Maria Goff – This is the best book I've read in an incredibly long time. If you're looking for some wisdom in raising your family in the midst of a world telling you what and how you should be doing it *coughmommyguiltcough*, then this book is for you. Seriously. I could read it over and over.  Up next on my list : Just Show Up by Kara Tippetts.
Educational
Traction by Gabriel Weinberg and Justin Mares –  The subtitle of this book is "How any startup can achieve explosive customer growth." Are you surprised that my educational books are based on how to grow a business? Komae is my first start-up, and I wouldn't be doing it justice if I wasn't educating myself along the way. While you may not be growing a business, you could be educating yourself on a new hobby, your professional skill set, or parenting. Up next on my list : Epic Content Marketing by Joe Pulizzi.
Just for Fun
The Selection by Kiera Cass – Ok. Guilty pleasure time. If you've read my bio here at Komae, you know that I love me some Bachelor(ette). This book series crosses that love with the Hunger Games. Yes. You heard me right. Bachelor meets the Hunger Games. Need I say more? Such an easy, quick, surprisingly addicting series. You're welcome. Up next on my list : The Girl on the Train by Paula Hawkins.
I would love to hear what you've read recently or what you've got on the docket for this summer. Let's grow our lists. Share your recommendations in the comments!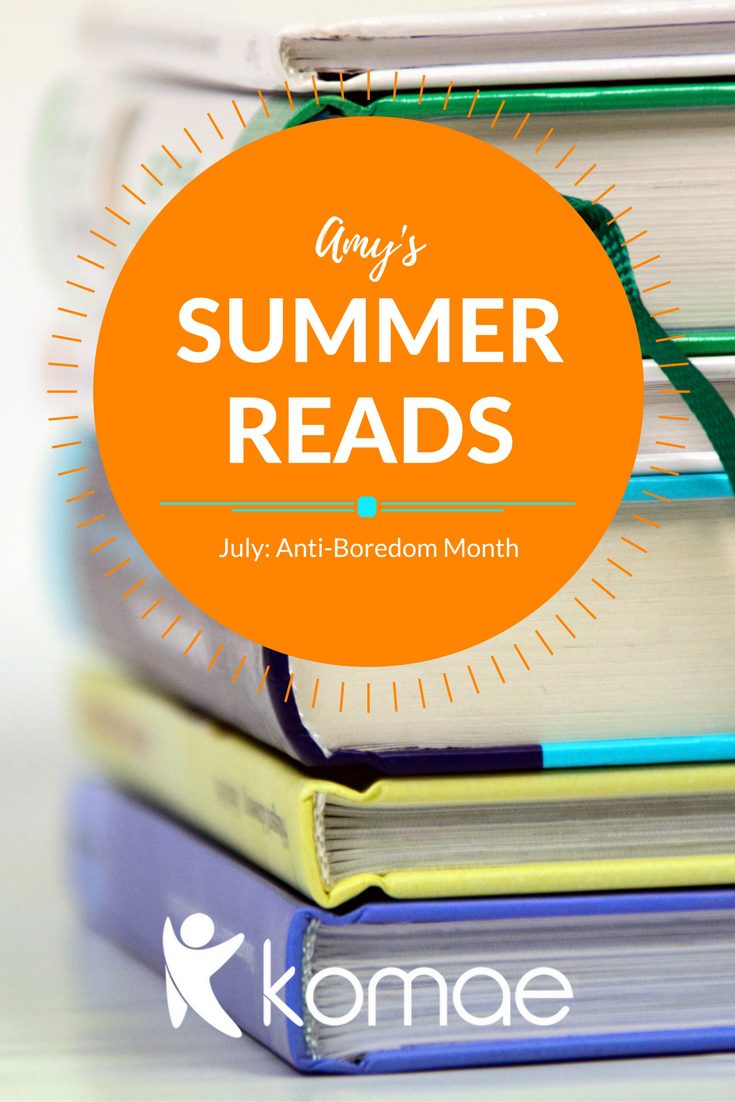 This error message is only visible to WordPress admins
Error: No feed found.
Please go to the Instagram Feed settings page to create a feed.
What are you waiting for?