Let's talk about girls' nights, don't you find that since having kids they happen just a little too infrequently? I know I do! That's why when I host them, I want it to be memorable. Part of hosting the perfect girls' night in is making the prep stress free so that you aren't exhausted by the time everyone arrives. Since having my son, I have found it difficult to do much party prep when he is at home.
It's simple, I just post a request on Komae and one of my Villagers swoops him up for playtime with their kids. And as soon as he's on his way to the sitter's house for the night, I need to be able to throw together a fun event quickly!
Step One:
Music! Pick up your phone, turn on your favourite playlist and light a candle while you are at it.  Take five minutes to yourself to get into the kid free spirit and ready for a night of fun.
Step Two:
To start, I like to work on my décor. I don't go crazy for a night in with girlfriends, but it is always nice to have a flower arrangement or simple table scape. Next, I get my drink table ready so that if anyone arrives early I can offer them something while I finish preparing the snacks.  
On my drink table, I like to provide everyone with tea, coffee and everything that accompanies it.  I also like to put out orange juice, wine and some sort of soda as a mix for drinks.  I have a cute ice bucket that I can continue to refill throughout the night and always have glasses for everyone set out on the table. I find that people often will bring their own drinks even if you tell them not to worry about it so I try not to go overboard providing lots of drink options. Having said that, it is always fun trying out a new recipe or making a big pitcher of pina coladas for everyone to enjoy!
Step Three:
This is probably my favourite part of preparing for guests and I have some go to finger foods that I always come back to. My favourite is creating a s'more roasting station. How many times have you looked through Pinterest, seen a s'more bar at a wedding and thought it was adorable?  If you're anything like me, the answer is a lot! Creating the s'more bar is effortless, carries a big impact and even better it serves as the centerpiece for your table.
You only need a few items to make your s'more station:
Serving platter (a nacho dish works best because the burner can sit where you would normally place salsa)

Burner (you can find these anywhere that carries a camp stove)

Wooden skewers

Graham crackers

Marshmallows

Chocolate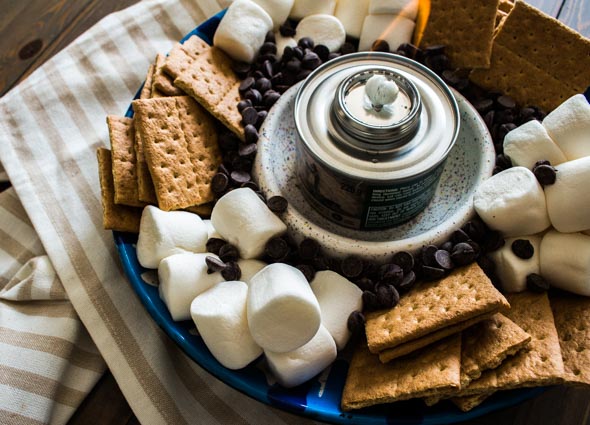 I am an allergy mom (my son has a milk protein allergy) and I am still breastfeeding, so for the time being I am unable to eat anything with milk ingredients in it. This has made me very conscious of any special needs that guests may have, whether it's an allergy or simply a food preference I want to have food for everyone to enjoy! Before I host, I always send out a message asking but just in case someone misses it I try to have a variety of snacks- both sweet and savory.
My next go-to is drizzling naan bread with olive oil, garlic powder and rosemary.  I throw it into the oven on broil for a few minutes to crisp it up and then I cut it into triangles and serve with hummus, guacamole and bruschetta. Fresh fruit, veggies and simple cheese and cracker tray always go a long way.  I love taking a few extra minutes to arrange them on platters to look beautiful and work as an additional piece of décor.
As women, I think we feel an innate need to contribute, so I can almost guarantee that your table will be filled with more food than you could have imagined!  Better yet, it will be filled with familiar faces all happy to have a night out. I promise they won't care if you took that extra 15 minutes to do something for yourself instead of sweeping your floors for the 5th time that day. I know from personal experience how easy it is to get overwhelmed at the idea of hosting a night in, because truthfully it can be a lot of work, but it shouldn't be!
We all walk through motherhood together and I love that through Komae we can connect to other moms who become part of our sisterhood.  
Mom's that you trust your child with but you also trust to ignore the dust bunnies hiding behind the drink station. This girls' night in would also be perfect for hosting a Komae Mommy Meetup and growing your free sit swapping Village. Take that 15 minutes mama and enjoy your night in!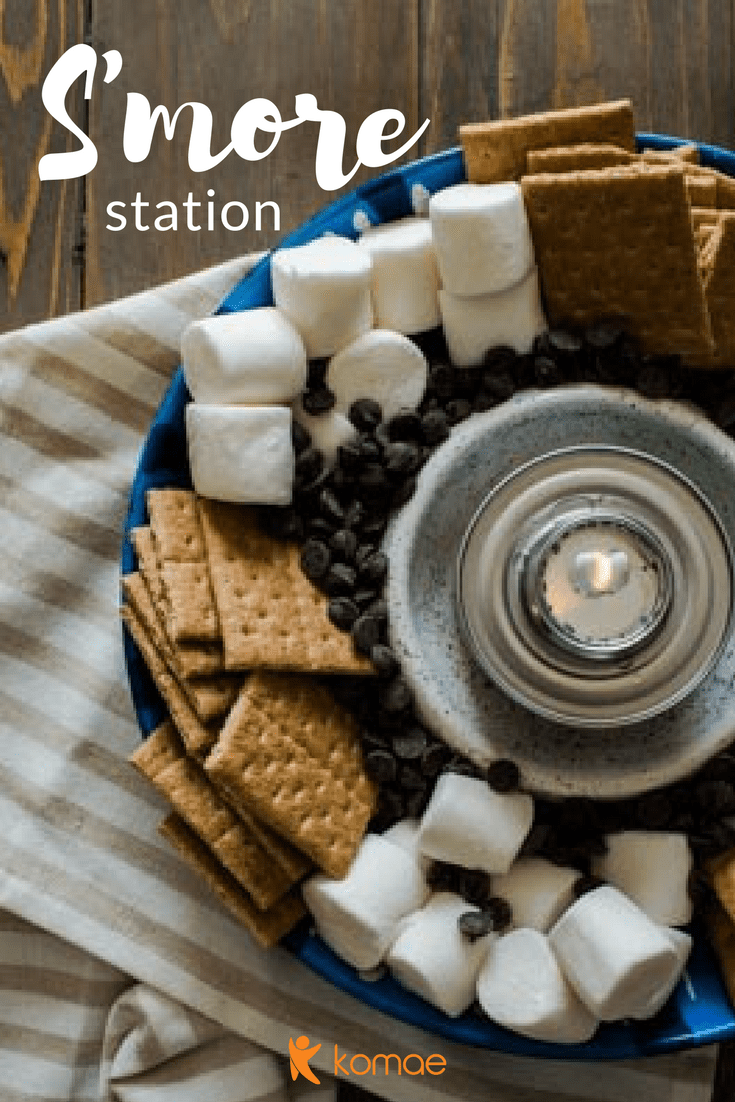 This error message is only visible to WordPress admins
Error: No feed found.
Please go to the Instagram Feed settings page to create a feed.
What are you waiting for?