When I got the news about Komae shutting down, I was in my parent's farmhouse kitchen. I opened the email and everything went quiet around me, though no one had stopped moving, everyone was still carrying dishes and chasing baby around the table.
It's not what anyone hopes for. Even when you're the competitor, you're rooting for the other team. You cheer (and fear, that's healthy) when they make a great catch, you shake hands when you pass on the internet. As a founder, you are always wishing you could duplicate yourself to get more done, and in way, that's what all of these plucky copycats are, each of us trying something different to increase the likelihood that this beautiful thing will exist and thrive.
I started to write. It couldn't be too late. They had done too much, gotten too far, too close. 'Please don't stop now!' I wanted to shout across the coasts, 'I believe!'
(And let's be real, there are a lot of cool competitors out there, and we all knew who the leader was; if anyone but Amy and Audrey was going to carry this torch, I wanted them to have four purple legs and a trunk.)
But what could I offer?
'Hey, we've never actually met, but I want to acquire five years of your life.'
Yeah, good one, Erin, real smooth. Here's what I actually wrote …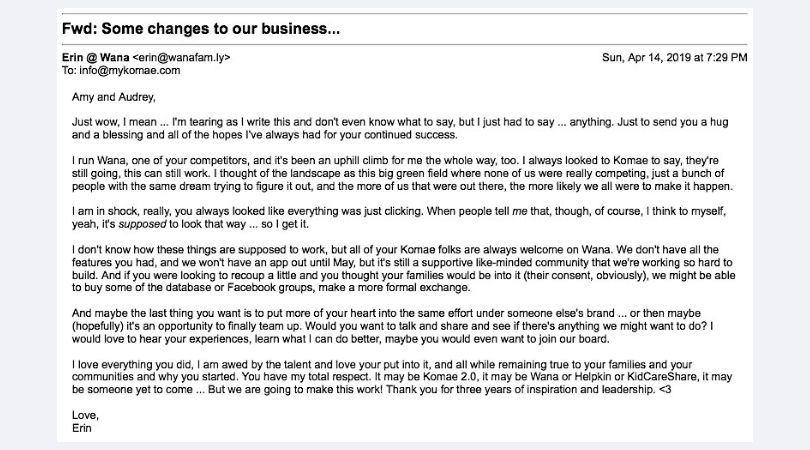 I truly believed we would be stronger together, and stronger together isn't about assets, it's about people. About who. About why.
So I wrote some more.
I told them about the Kids Startup Showcase, the annual event we host for youngsters under 14 to show off their businesses, inventions, and social projects, with the hope that everyone walks away seeing the smallest among us just a little bit bigger. I told them about Millennial Fam, our podcast featuring families out to have it all – the happy, healthy trifecta of relationships, kids, and career – and how they do it, so we all can, too. I told them about Pledge 1%, and how we commit 1% Time to teaching, staffing half our team with students who, for most of them, are experiencing their very first internship.
And we talked about team. About Bryan, the originating CTO of HopSkipDrive, the premiere safety-obsessed ridesharing app for kids. And Jose, who hand-built the first commercial spacecraft ever to fly to the International Space Station. And Noemi, she's designed user experiences for Adobe, AT&T, Netflix, and googobs more.
And did you know that Adam, one of our developers, is also a former dean of students for at-risk youth? He became a programmer because he believes technology is a path to success for these kids and couldn't think of any better way to teach it than to do it. Gene mentors elementary Lego Robotics, just ask him about his Mutated Peacocks. And Darci, our social impact analyst, she found us because she was already championing accessible childcare for university students, surveying hundreds of parents-in-study and presenting her research throughout LA.
And then there's executive-coach-foster-parent Rob and developer-slash-Pride-marcher Sarah and …
We say that Wana hires the best of the best, and to us that means leading in your field and with your heart. Komae, I know, was built in the same mold. So what can I offer? Us. I can offer us. I can offer this team, plus your team, that makes us together so much more than we all even already were.
(I also think we're pretty savvy with technology, and the full-feature forever free business model is darn fun.)
Guys, this is nuts! This is crazy! We have so much work to do! Can you see how excited we are?? Can you see how much … we mean to each other? I'm just looking at this picture, I look at it all the time. Because somehow to me it tells our whole story, and we are just opening the sequel!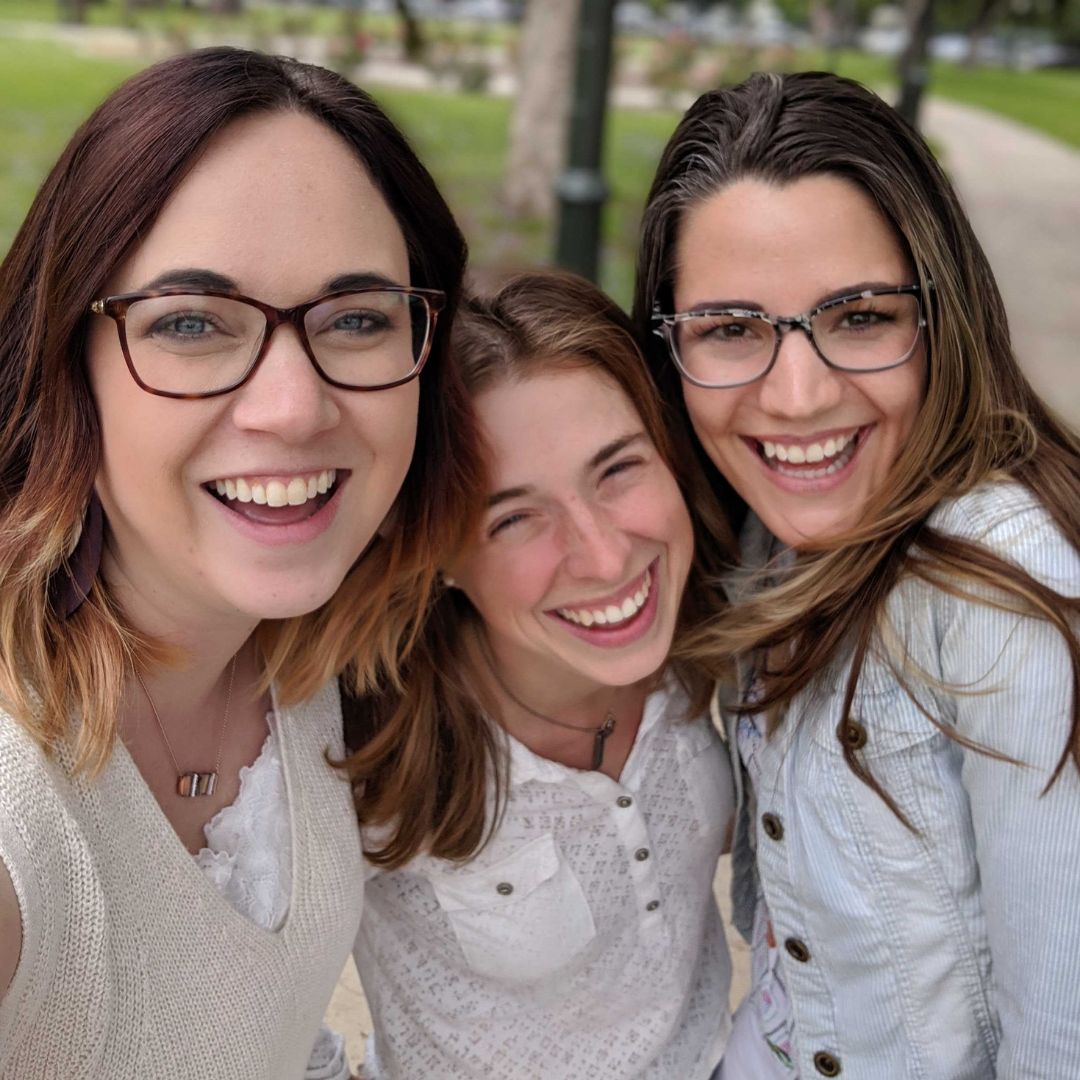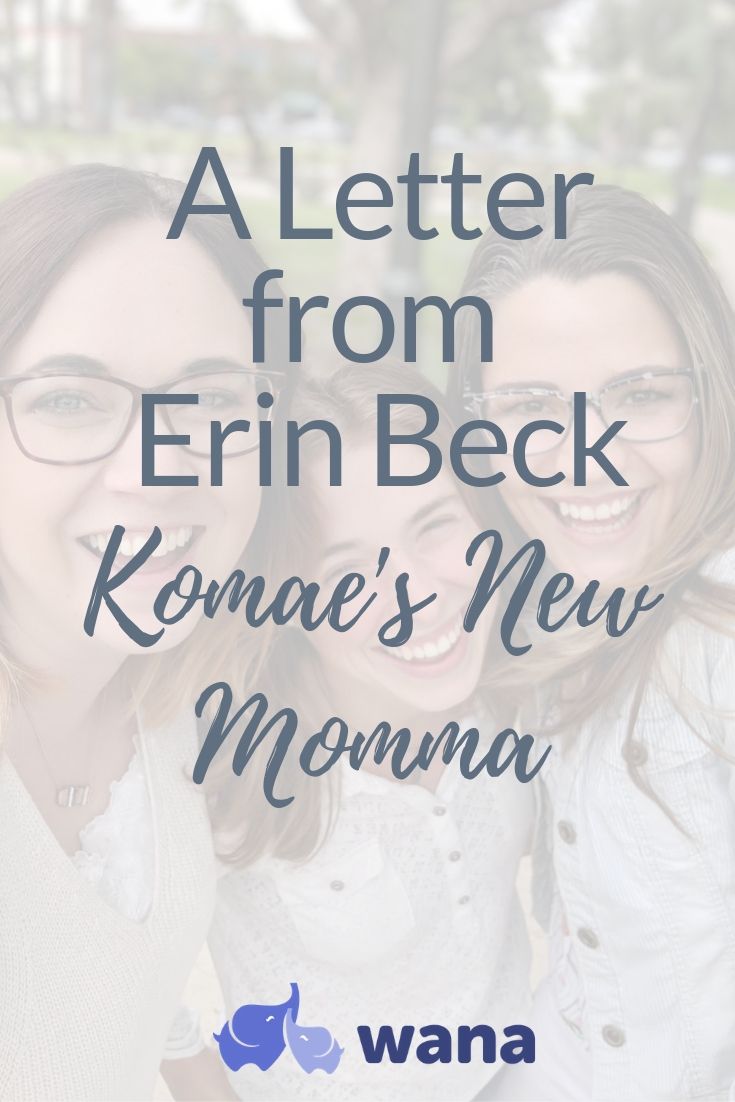 This error message is only visible to WordPress admins
Error: No feed found.
Please go to the Instagram Feed settings page to create a feed.
What are you waiting for?