I love costume parties. LOVE them. You can throw a party on any ol' day of the year, slap a theme on it, and I will be there with bells on. (If it is a bell themed party, that is.) So when it comes to Halloween, I'm like a kid in a candy store.
Of course each year I have to top the costume before. Let me tell you, after 35 years of Halloweening, coming up with something clever takes a little bit of creativity and a whole lotta Googling. Especially since I am all about the homemade, low budget, DIY costumes. No expensive, store-bought, pre-packaged "Sexy [Fill in your blank] for this girl. And I want to help you come up with the best costume, too!
Here are my top 5 favorite costumes and how I made them.
You have my permission to steal my ideas and be the talk of your next Halloween party!
#5 – Haunted House
First of all, can we take a moment to appreciate the terrible quality of this photo? Remember when our parents had film cameras, didn't care about the perfect setting, took only one shot, and didn't know until after the film was developed if it was a good picture or not? Life was so simple back then.
Back to my costume- My little 9 year old imagination took a large box, spray painted it black, and voila! A Haunted House. I made the windows out of construction paper, cut shutters out of spare cardboard, and sniped pictures of spooky creatures from a Jo-Ann Fabrics Halloween catalog to put in each window.
I added extra cardboard to the top flaps to make the roof above my head and draped fake cobwebs and spiders in the peak. See that reflective white blob above my head? That is a ghost coming out of my chimney.
My mom added reflective orange tape since I would have disappeared into the darkness of night with my full black attire. (Again, back in the day when we trick-or-treated after dark.) And the final touch was an eerie noise maker button "doorbell". You better believe I took home first prize at my home town firehouse parade and costume contest in 1991!
#4 – Double Dare
Couples costumes are so fun! And what's more fun than a throw back to something from you childhood?? Anyone who was a kid in the 90's remembers Nicelodeon's Double Dare and it's infamous slime. This costume was super easy, cheap, and made everyone who saw us dare us to a physical challenge!
All I did was shop around thrift stores for matching solid color pants and shirts. You can do red or blue! Then I bought t-shirt iron-on paper. (Make sure you get the kind made for dark shirts otherwise it won't show up.) We printed the Double Dare logo backwards on the transfer paper so when we ironed it on it read the right way.
Top it off with elbow pads, knee pads, goggles, a helmet, and of course a cup full of real slime on your head. If you host your own costume party, you can even set up an obstacle course and make all your guests take on the physical challenge. So simple. So cheap. So fun!
#3 – Ghostbusters
Our first Halloween as a family of three! I finally had a little baby to work into our costume theme. Sure we could have gone with the classic little pumpkin or one of those easy animal onsies. But as you know I live by the "go big or go home" mentality. So we teamed up and created this Ghostbuster trifecta. Here's how we DIY'd it…
The Ghostbuster suit was a super cheap painter's cover up. It was white when so we stained it by soaking it in coffee. My husband crafted his proton pack out of misc parts he had lying around to make it look super tech-y. Like literally he glued a plate, some old cables, dials, a mini fan, and connected a Dollar Store gun with a plastic hose. Of course all legit ghostbusters have badges so we printed those from the internet and taped them on. Glue some extra tubes onto an old pair of goggles and BOOM. You're a Ghostbuster.
My Stay-Puft Marshmallow Man suit was as simple as an XXL white sweatshirt stuffed with puff, a white chef hat squashed down, and a blue rectangle with a head hole cut in it. My puffy legs were just white felt stuffed with puff and tied with string to make the marshmallow puffs.
I have to confess, my mother-in-law is brilliant with fabric and "soft-sculpted" that adorable little slimer face by hand. So I really can't help you re-create that but if you email me, I will gladly lend it to you. (Share. Don't spend. Right?!) Or you can buy one online. To top it all off, my son had a cold the day of the party and literally slimed me all night with boogers. Now that was an accessory that I didn't plan for!
#2 – Picture Day
This costume's theme was "What I wished I looked like on picture day when I was 10 years old." I would have given anything to have curly blonde hair, side pony, glasses, braces, and the coveted laser beam background. Instead I had stick straight brown hair, perfect eyesight, straight teeth, and a standard grey background. This was a major party pleaser and everyone took a turn posing with my sweet background. Here's how I pulled off this look…
The wig I borrowed from a friend who had gone as Jessie Spano the year before. You can pick any wig or just tease your own hair! I wanted glasses so bad as a kid. So I shopped the reader glasses section at the dollar store and found the perfect pink plastic pair that I totally would have rocked when I was 10. And it is not pictured here, but I also made a fake retainer out of a paper clip and some denture putty. All the cool kids had braces.
And of course the centerpiece of it all- the laser beam background! I see now that you can buy a poster size laser beam background which would have been way easier. But I took an image from Google, blew it up, and printed it in 8.5″x11″ sections then glued the pieces together on a large piece of cardboard. I took elastic and made loops that I strapped around my arms so it stuck to my back.
A good costume is all about the fine details. So I cover the back of my background with white paper and wrote in sloppy 10 year old hand writing "I am glad you're my friend. Stay Cool, Audrey". I promise, if you recreate this costume you will be most popular kid at the party.
#1 – Troll Doll
When I look back at this choice of costume I equally blush with embarrassment and beam with pride. First of all, yes that is all my own real hair. Secondly, when I decided I was going to dress as a troll doll, I did not realize that as a result I would need to appear to be naked. I don't know how that didn't cross my mind as I was buying a nude suit! But I literally didn't try the whole thing on until an hour before our party started and by then it was too late to change my mind. So I decided to rock it and hope people were so distracted by my crazy hair that they didn't notice the rest.
So how did I do it?? Like I said, that's real hair on top. I realize that very few people have hair that long, but if you do this costume is a must! I bought a Styrofoam cone from the craft store and placed it on top of my head. (Tip: I covered it with blue painters tape so if it peaked through my hair it blended right in.) Then I flipped my head upside down and tied a hair tie on the top of the cone.
Next step- HAIRSPRAY! I sprayed the heck out of it to make sure every little hair was standing straight up. Finally, a full can of blue hair spray. I have super dark brown hair so it literally took a full can to get it that bright. And of course the finishing touch, a bright blue gem for my belly also found at the craft store.
My little secret that night was that I was 8 weeks pregnant! And it made me think it would be a super cute costume for a pregnant mommy that is further along and has a little bump like a real troll doll. And if you don't feel comfortable looking like you're naked in public, try adding a grass skirt and be a Hawaiian troll doll. So many ways you can dress it up!
_____________
There you have it, friends. My top 5 favorite homemade costumes. And they were all made with thrift store finds, craft store runs, and odds n' ends from around the house. I promise you will sweep every costume contest in town if you follow my tips above!
What's the best costume you've created? I need ideas for this year!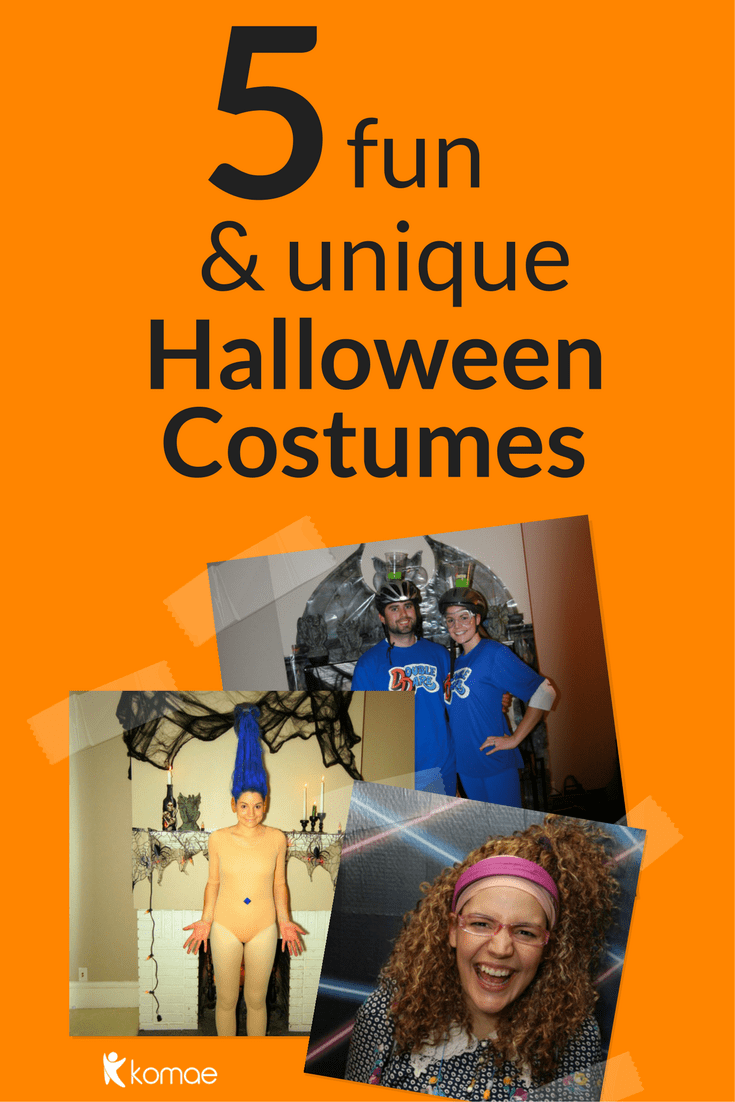 This error message is only visible to WordPress admins
Error: No feed found.
Please go to the Instagram Feed settings page to create a feed.
What are you waiting for?