One of the things I've found most effective in building friendships is to live with a spirit of generosity. I think it's a wonderful and easy way to spread joy and to create positive change in your community. Audrey and I talked about this topic LIVE on Facebook this week. If you missed it, here's the link…
Start the Cycle of Giving Joy
Have you heard the saying "hurting people hurt people?" It is full of so much truth and causes me to think, what do happy people do? I bet they continue to make others happy. I'm sure you can all think of that person who is always bubbling with joy. The one that you can't help but smile when you're with them. Emotions are contagious, friends. So how can we use that to have a positive impact on our community?
I propose we start a cycle of joy through the act of generosity. But you have to be the one to go first. Do something nice for a friend. Buy them a coffee unexpectedly. Drop unexpected sweets in the break room at work. Be the agent of change and I bet you'll see spirits lifted. And when spirits are lifted, everyone wins.
Stop Worrying About Who Owes Who
While being generous yourself will often spur more generosity in those you've served, that will not always the case, and you should not expect it to be. Because if you do, then you will be disappointed, hurt, and ultimately… less generous. While we may have hopes to see gratitude and joy as a result of our actions, if we turn that longing into an expectation, then we're not actually being generous are we? Chew on that for a moment.
This is how I operate. Maybe it's picking up the tab at dinner, buying their coffee, or always being the one to host the parties. No matter what it is, if I'm doing it from a heart of generosity, then I'm not waiting for someone to pay me back. It's a beautiful thing that really eliminates a potential source of contention between friends and let's a gift be just what it was intended to be… a gift.
Don't Wait to Be Wealthy
I can hear some of you now thinking, "but I have nothing to give." When I have some excess in my budget or in my time, I will be more generous. If that's you, I want you to stop that thought right there.
You do not need to wait until you have excess in order to give. Because (spoiler alert), it's likely that as your income increases, you will increase your lifestyle right along with it. I know very few people who feel like they have excess money even if I know their paycheck would say that they do. Same goes for time. I've hardly met a person who've said "I'm just incredibly bored lately." Can you even count the times that you've asked someone how they've been and you've been given the answer "busy?" Friends. We are all busy. You are not unique in that.
But that's beside the point. There are ways that you can be generous when you're operating on a budget that's slim to none, starting with passing on your Aldi quarter when you pass along your cart. Generosity can be simple. It just needs to be purposeful. I mean, who isn't filled with joy when their child gives them a dandelion they picked fresh from the lawn? Children don't have much to give, but the fact that they give all they have is what makes the gift so special.
Looking for more ideas to spur on generosity in your community? Follow us on Instagram where we'll be sharing more ideas in our stories!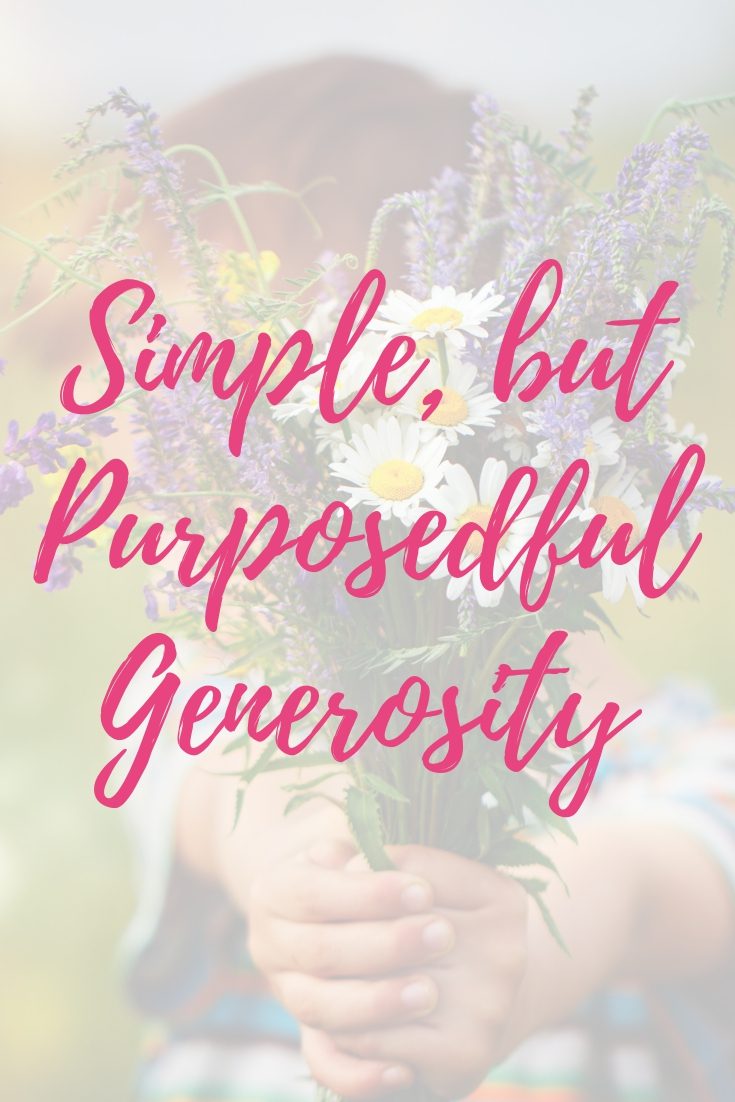 This error message is only visible to WordPress admins
Error: No feed found.
Please go to the Instagram Feed settings page to create a feed.
What are you waiting for?