School's about to be out for summer. The kids are pumped. You're pumped. Everybody's pumped. Freedom! Swimming! No schedule! It all sounds great, right? Then two weeks pass and things begin to lose steam and the most dreaded words come out of your precious little angel's face… "I'm bored."
Bored? Bored!?! Does anyone else hate this word as much as I do? There is not much that sends me up a wall more quickly than my kid telling me he's bored after we just took a day trip to the zoo or purchased him a brand new Nintendo Switch. But I'll be honest and also admit that I, too, was totally that kid. That look my mom would give me when I said I was bored? Well, that was a look I'll never forget. And it was often followed by the offer to clean her house if I couldn't find something else to entertain myself with.
I know my kids sleep better and find themselves to be less 'bored' when they are given opportunities to be creative and burn energy throughout the day. I also know that I'm not one of those Pinterest Moms that is going to prepare a craft for each day of the week, nor am I the Sports Mom that is going to have my kids join all the things and practice accordingly. Rather, I'm a mom that chooses to embrace community and coordinate playdates for my kids; ultimately giving me more head space with adult conversation and them more playtime with their friends. And sometimes… it even gives me free time.
I'll tell you more about that free time in a moment, but first I want to pause and give you a freebie that is going to make it incredibly easy to connect with your kid's friends this summer. I know that, for me, my kids' friends used to simply be the children of my friends. But now that they're in school and making their own friends, I'm at a loss of how to connect with those new families all summer long. In fact, I hardly know the names of any of their parents! But… Komae to the rescue. What we've made here is a printable business card (of sorts) for kids. Print out a sheet or two, help your kiddos fill them out, and then pass them around to the friends they want to stay in touch with. Click here to download the full page PDF.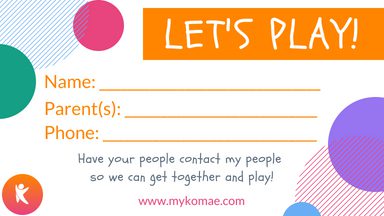 So, back to that free time I mentioned…
On the Komae app, you can schedule playdates to maintain school friendships and keep your kids active all summer long. Do this by posting an event on the app and inviting your parent friends that might like to join. Heading to the zoo on a tuesday afternoon? Invite your village to come with you. Want to open up your home for a cookout on friday evening? Let your preschool group know to come on over and to bring their kids for a backyard party.
But wait… it gets better!  Remember how I said that sometimes these playdates get me free time? Well, the Komae app helps you swap sits with other parents in your community to give yourself free time. Want to run some errands on a saturday morning without little humans at your heals? Post a need on the app and see which of your friends is able to watch your kiddos for a few hours. Want to take a nap? Let your friends help you and give your kids some play time by posting a need on the app.
We've all heard that 'it takes a village.' But this summer, we want to challenge you to 'Be the Village'. Bring your community closer together by introducing them to the Komae app.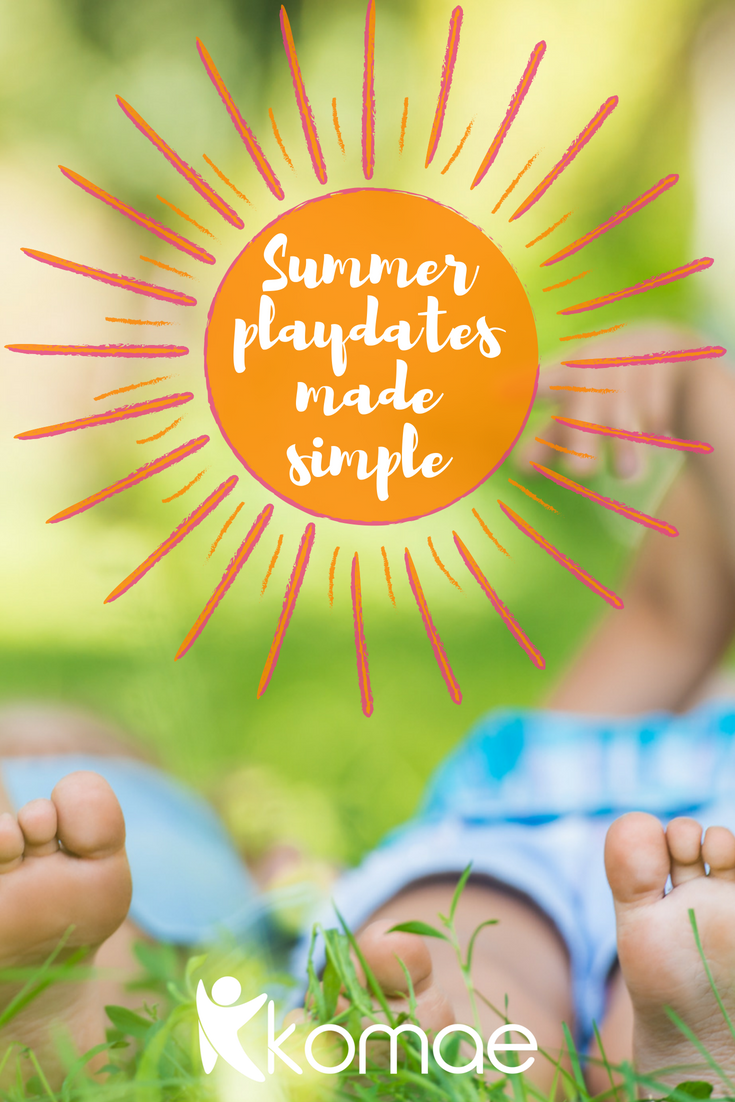 This error message is only visible to WordPress admins
Error: No feed found.
Please go to the Instagram Feed settings page to create a feed.
What are you waiting for?