I was snuggling my 6 year old son at bedtime recently and felt something poking my arm. I pulled back the covers and found a pile of my business cards in his bed! At first I was a little mad but what he said next melted my heart…
"I have been reading it at night so I can memorize your phone number. I want to tell it to a friend in my class so his mom can text you and we can make a playdate after school."
Then he asked me if he could take my business cards to school so he could pass them out to kids he wants to play with. Is that not the cutest?! Then I envisioned my sweet little kindergartner walking around school handing out my official business card and was afraid his teachers would think I was trying to sell them something!
So we made a new plan. Adults have business cards. And for kids, play time is serious business. So he made his own Play Cards to hand out! He cut out little pieces of biz card sized paper, wrote his name and my phone number, and packed them up in his backpack to share with his friends.
That got me thinking. Christmas break is coming up and all these little friends he has made over the past three months are going home to drive their parents crazy for 2 weeks. Sure, it will be fun for a few days to have family time and play in the snow. But let's be honest, by the end everyone has cabin fever and soggy mittens.
So I say bring on the play dates! I have been chatting with these moms at school pick up and activities for months. It's about time we take our relationship to the next level and invite the kids over to play! But how? Don't worry, we've done the work for you.
Say hello to the Komae Play Card!
We made an easy, free printable so you can experience this joy, too! Simply print, write, cut, and share. There is a Christmas version and an every day fun one, too.
So friends, don't do Christmas break alone. Print this baby out and spread the play date love! Trust us, your kids and your future self will thank you.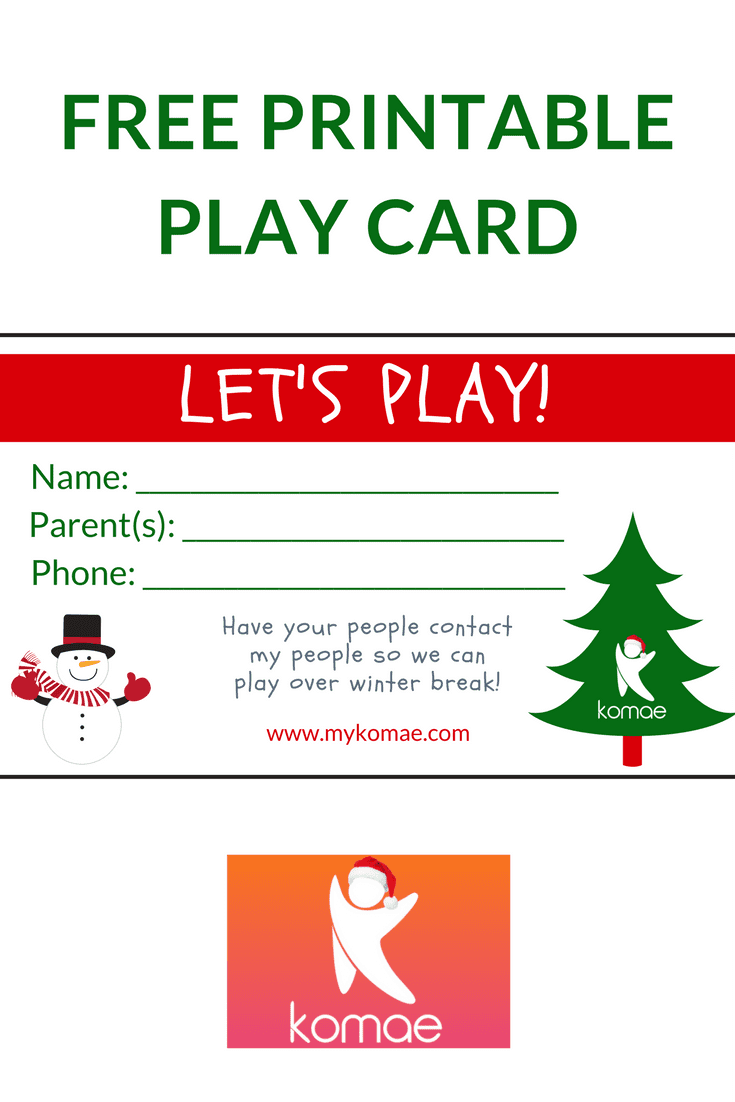 This error message is only visible to WordPress admins
Error: No feed found.
Please go to the Instagram Feed settings page to create a feed.
What are you waiting for?