From Both of Us
"I'm Audrey Wallace"
"And I'm Amy Husted"
"We are just two stay at home moms from Akron, OH with a mission to reinvent babysitting and change families' lives."
That was how Amy and Audrey introduced themselves the first time they ever live-pitched the idea of Komae, with sweaty palms and shaking knees, in October 2015. (Audrey very clearly remembers thinking she was going to die before walking on stage.) They were in the early morning practice session before the Female Entrepreneur Summit Pitch Competition in Cleveland, OH. They had never done anything like that before. In fact, they had to binge watch Shark Tank leading up to the event to learn what pitching was.
"Don't ever refer to yourselves as 'just two stay at home moms again." 
That was what the pitch coach's immediately shot back at them. Not only is being a stay-at-home-mom one of the hardest jobs on the planet, but she told them they were bold, brave, and smart businesswomen who were going to change the world. And she was right. They went on to win the pitch competition that night and their lives have never been the same since.  
Pitching that October day was one of an uncountable number of things Amy and Audrey did that they had never done before. They are living proof of the "do it scared" mentality. As co-founders of Komae, they personally learned and experienced more about running a business, building relationships, managing anxiety, sacrificing themselves, and overcoming obstacles than they ever would have imagined.  
In January 2019 the point came when they thought the adventure was over and they stopped their daily operations of Komae. As it turns out, they were gifted one final unexpected learning experience- selling their company to Wana. And now the question comes… what's next for each of them?
From Audrey
I spent the first half of 2019 more caffeinated than ever because I decompressed by getting coffee with all the people who loved me so well throughout the life of Komae. Then I got to work finding myself my next career. (And if you've done that recently, you know that it is work!) 
When I read the job description for the Senior Director of Marketing and Communications at the Greater Akron Chamber, I thought, "I didn't even know a job could exist that nails my skills and passions so well!" I love Akron. I love entrepreneurs. I love supporting local businesses. I love telling stories. And I love networking events! While I considered several new roles locally and remote, my sights were set on landing that job. 
I'll be honest though, some days it was still hard to shake the thought that I was just a stay at home mom. This time it was my husband and all those supporters who I got coffee with who delivered the truth to me. I am now an even bolder, braver, smarter, and far more experienced businesswoman who has a unique set of skills that only Amy and I could possibly have after the gauntlet of entrepreneurship we persevered together. So, I dug in my heels, prayed daily, activated my amazing network, and I am so grateful to have landed that as my new career.
At the Greater Akron Chamber, I get to lead storytelling initiatives, modernize branding, and help business owners build a growth mindset in our region. It's basically lobbing up alley-oops for our companies to slam dunk. Isn't that the best job ever?! The fact that I get to use the skills that I gained during my time with Komae and invest back into the community that invested in me tells me that I am right where I am meant to be.
It is a joy to know that what Amy and I created, literally out of nothing, will continue to impact the future. And the fact that my operations-slaying, data-whizzing, creative-juicing, showtune-singing (Haha Amy, had to throw that one in!) co-founder gets to be part of the new executive Wana team as CMO, keeping our original Komae-orange thread weaved into what is becoming a beautiful new tapestry, is as good as it can get. I look forward to supporting them as an advisor and continuing our mission to "reinvent babysitting and change families' lives" as we originally set out to do.
From Amy
Did Audrey just say that I am staying on to be the CMO of Wana? Yes, yes she did. Am I a crazy person? That's debatable. ;)
Komae ceasing operations in January crushed me. I believed I was a failure. I believed Audrey and I had just wasted 4 years of our lives. And I believed that all the naysayers just might have been right all along. Maybe changing a culture by inserting co-operative care just couldn't work. Maybe the nut just couldn't be cracked. So, I went into fix it mode (cause that's what I do… I fix things). And what needed fixed in that moment, was myself. 
I started by dying my hair purple because… well, isn't that what everyone does when they've gone through a bad breakup? (I see you nodding over there!) I then started working with a few different startups here in Akron. I was on a mission to discover if I really had what it takes to be an entrepreneur and to ultimately find my next 'home.' 
Spoiler alert: I learned that I do have what it takes and that there were many opportunities to find a new home. I began to believe in myself again and I finally landed in a healthy place of appreciation for the journey Komae brought to my life.
In the meantime… I was managing the acquisition of Komae with the founder of Wana. Some days I wanted to snatch it back into my hands like a selfish toddler screaming "mine!" Most days, though, I was excited that our baby was going to live on in the hands of someone I knew was capable and connected in a way that the company needed. As Erin and I began to work more closely together on the hand-off of Komae's assets, we had an idea.
What if I came on as CMO? What if I were to head up the Akron headquarters of Wana and what if I grew a sales and marketing team right here in NEO? What if we took the best of what both companies and both networks had to offer? What if we did this thing together? What. If.
Needless to say… The 'what if' was strong enough for me to respond with a 'heck yes.'
Despite the highs, the lows, and incredibly bumpy ride, the truth is that the startup bug has bitten me hard. Entrepreneurship has taught me what I'm capable of and I now see that I am just getting started. Komae is just getting started. Wana is just getting started. Big things are going to come and it's because of the village that has brought each and every one of us here.
Komae would never have existed if it weren't for both Audrey and I coming together in the very beginning to light the fire. I would not be who I am if it weren't for Audrey bringing me out of my shell and inspiring me to become more than I was. Wana+Komae would not be here if it weren't for three female founders coming together and saying "Hey… Let's set aside the competition. Let's collaborate. Let's do the thing. Together.
And together, we shall. Watch out, world, cause we're going to bring it.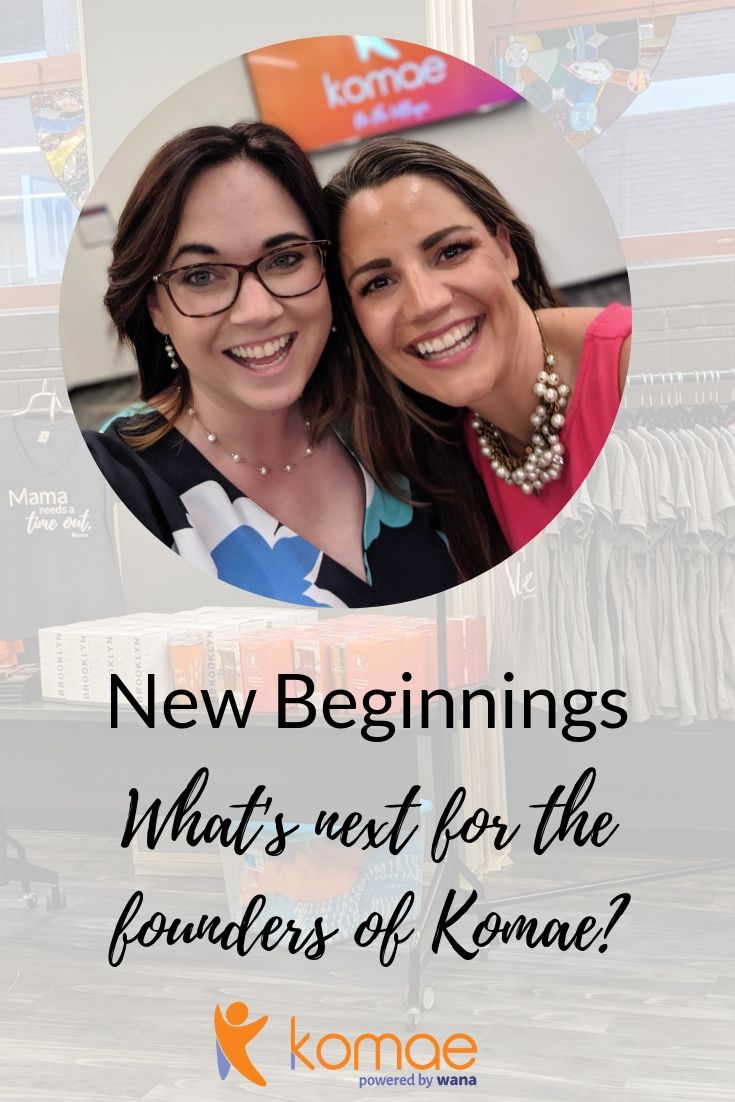 This error message is only visible to WordPress admins
Error: No feed found.
Please go to the Instagram Feed settings page to create a feed.
What are you waiting for?