When Amy and I read the philosophy of the Women's Startup Lab in Silicon Valley, we knew it was a place we needed to be.

What is Women's Startup Lab?
"Women's Startup Lab is a business accelerator that empowers female founders to be strong leaders, create impactful startups and to influence and shape the world through their startups, innovation and community collaboration."
Women's Startup Lab selects only 12 companies and Komae is honored to be selected for the Summer 2018 Cohort! 
The coolest part is they have a house in Silicon Valley where all 12 companies live for the 2 week accelerator. Amy's dream of being on  a reality TV show is coming true! Well, except for the TV part. There will not be a camera crew, but you definitely want to follow us on social media to get the full scoop and live vicariously through our Insta Stories.
From dawn to dusk Women's Startup Lab will have events scheduled with their network of industry influencers, advisors, and mentors who will rock our world. Rumor has it, it's going to be like drinking from a fire hose, so we are buckling up and preparing to be hydrated!
Why are we going to Silicon Valley?
Did you know Amy and I were stay at home moms when we started Komae? No tech experience. No business degree. Just an amazing idea, a whole lotta passion, and an irrational amount of gusto! The idea was born in Spring 2015 and now in 2018 we have a rocking tech biz with over 12,000 families across the country.
But let me tell you, the three years in between have stretched us more than that crazy yoga in the park promo video I did. (Bet you didn't know I could reach my foot behind my head!) I have to confess, there have been times when we've been on phone calls with fancy business people and they used acronyms we didn't know so we were furiously googling in order to keep up. Act as if, baby.
So we are going to further stretch and strengthen ourselves and our business for those 2 weeks in Silicon Valley. We're ready to do even more things than we ever thought we could.
Wait, 2 weeks?! HOW are you going to Silicon Valley??
That's right, friends, 2 weeks. 14 days. 336 hours. That is by far the longest either of us have ever left our husbands and kids. Speaking of hubbies- they deserve a little spotlight here. Imagine how that conversation went. "Honey, we earned a spot in the Women's Startup Lab accelerator! Aaaaand I'm moving to Silicon Valley for 2 weeks while the kids are on summer break. Cool?" 😬
Both of our husbands without hesitation replied, "You have to do what is best for the company, so go for it." Wow. What? Mom guilt is certainly creeping in, but when you have a supportive mate like that, man that makes it easier. Gary and Andrew- you are real life superheroes! (And a note to our personal Komae Villages- get ready for lots of requests in July!)
Is this journey going to be hard?
Our feelings would be best expressed by a monologue from Women's Startup Lab:
"Yes, hard but exhilarating. So go wild, be bold, swing hard. If you fall, I know you'll get up, because it's in your DNA. If it weren't you wouldn't be here – but you are, because you are that bold, courageous entrepreneur!

We need you. The future depends on you.  Like the many brave women who came before us and made the difference for us, now it's your time! This is your moment to do it!  

Let's create the world together."
We wouldn't be where we are today without you, our Komae tribe. So follow us on Facebook, Instagram, Twitter, YouTube, LinkedIn because, in the words of Tupac, California knows how to party and we want to you to come along with us!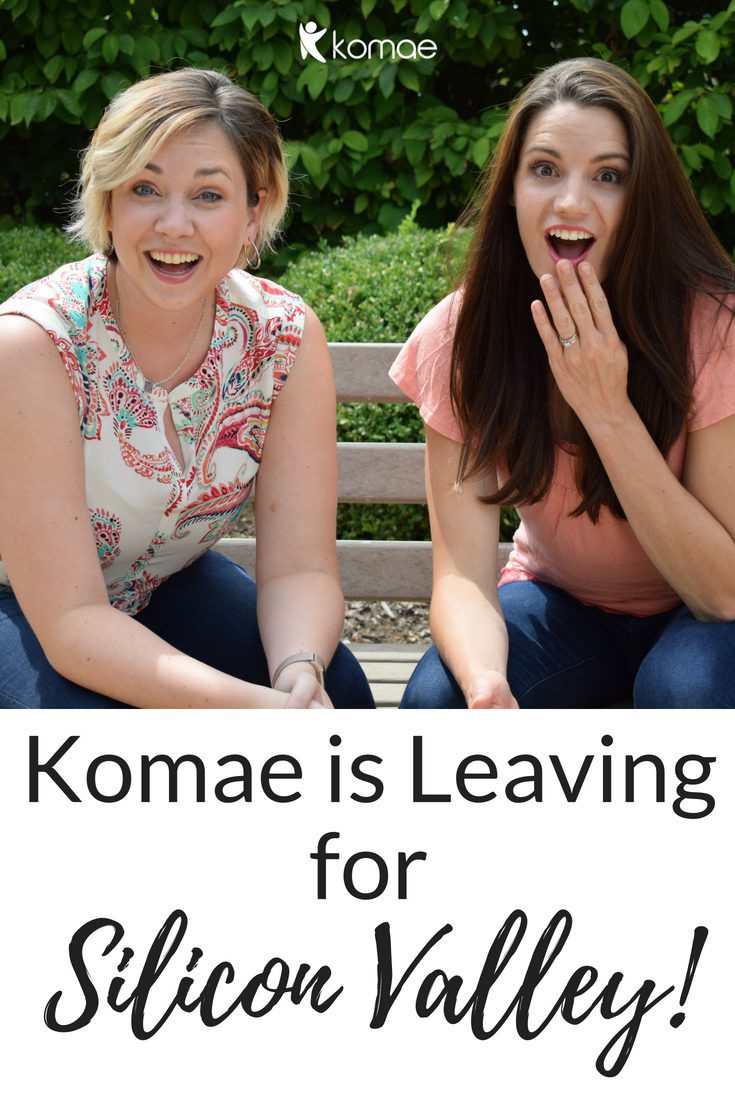 This error message is only visible to WordPress admins
Error: No feed found.
Please go to the Instagram Feed settings page to create a feed.
What are you waiting for?