As you may have read here in our blog, and hopefully witnessed on our Instagram channel, Audrey and I just spent two weeks in Silicon Valley at Women's Startup Lab. This trip took us away from our families and we were inundated with speakers, meetings, and business strategy sessions. Since we've gotten home, the jet lag has been real, and we've been having a recurring conversation that goes like this…
Question: "How was it? Was it worth it???"
Answer: "Incredible. Yes. Best thing we've ever done for our business and ourselves as founders."
Let us tell you why…
We Grew a Network
Before we left for our trip, some former alums told us that it would feel like we were drinking through a fire hose. Boy, were they right. We met probably 50 or more investors, advisers and influencers between both 1-on-1 and group sessions. Not only did they share their wisdom, but they offered ongoing assistance, advice, and introductions when the timing is right for our business growth.
We met power houses like Jason Calacanis, host of Angel Podcast and This Week in Startups. We were inspired by startup stories like Randy Marsden, the inventor of Swype, Dryft, and Clean Keys. And we were educated and empowered by powerful female entrepreneurs paving a path for us like Lisa Fetterman, Andie Rhyins, Terri Mead, Karen Katz, and Jennifer LeBlanc to name just a few.
So really, we were handed a valuable network on a silver platter, and now that we're home, the real work starts. Being a successful entrepreneur is all about making the most of the opportunities placed before you. While someone might be kind enough to open you a door, it's your job to come to life at the party.
We Discovered a Sisterhood
Friends, there is huge part of Women's Startup Lab that functions like an adult summer camp, and we couldn't be more thankful for it. All 10 founders lived in a single house together, sharing rooms, sharing meals, sharing laughs, and sharing tears. Living with 10 female entrepreneurs for 2 weeks was the perfect picture of iron sharping iron. We made each other better. We lifted each other up. And we are now co-warriors for life, because each and every single woman in that house is capable of greatness.
I simply cannot wait to see each of them on the other side of the finish line with us as we all build our companies across the country and around the world. And if you'd like to see our end of program dance party, be sure to hop over to our WSL Highlights on Instagram. You're welcome. ;)
I consider Ari Horie a genius for creating a program with this level of immersion that cultivates such deep camaraderie between women. Had the experience been any different, we would not have come home with the valuable relationships that we did.
We Became More Determined than Ever
You guys… Silicon Valley LOVED Komae. Eyes lit up. They understood what we were building and they saw universal the need that Komae fills in the lives of parents.
Not only did they love Komae, but they loved US. Audrey and I have always been thankful to have each other as co-founders,and know that the only reason we've had success is because we have each other. But there's nothing quite like showing up in Silicon Valley and being seen as a iconic co-founder team from Akron, Ohio. To say they built our confidence is an understatement.
Komae is on the rise, friends. Download our app. Invite your friends. Buckle up. And enjoy the ride that free babysitting is bringing to our culture.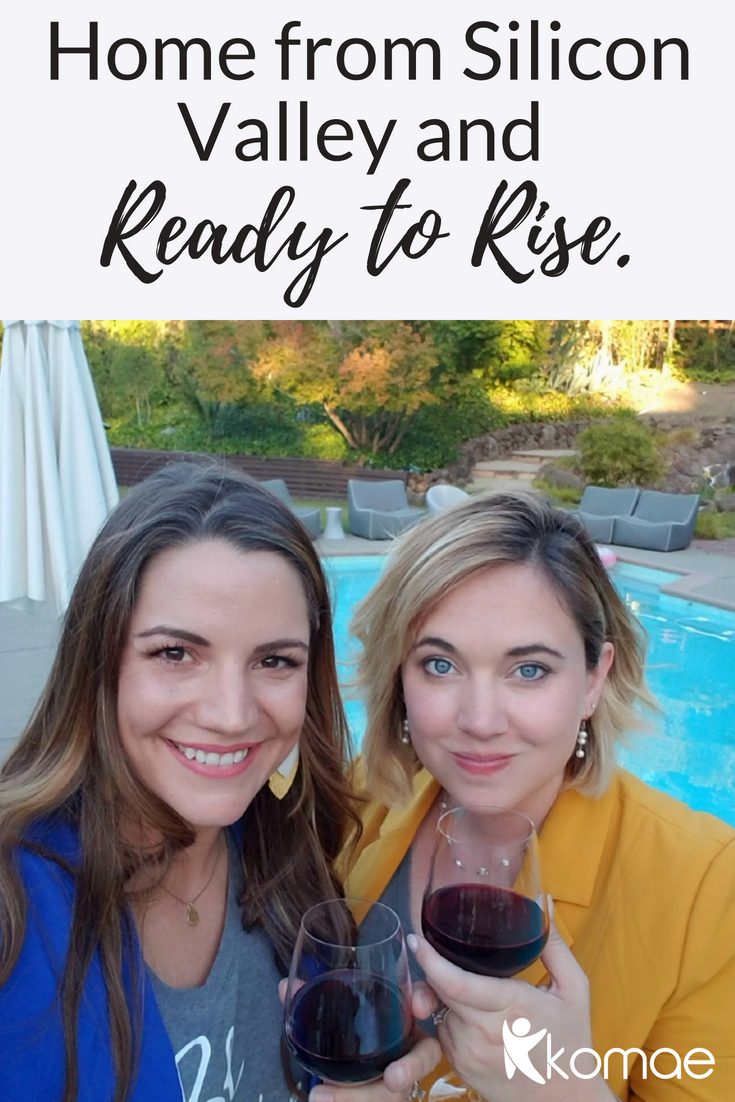 This error message is only visible to WordPress admins
Error: No feed found.
Please go to the Instagram Feed settings page to create a feed.
[Fancy_Facebook_Comments]
What are you waiting for?