We've been talking to our customers asking them what they want to see more of in their Komae experience and what we heard were two resounding things… ease and flexibility.  So we brainstormed.  We planned.  We developed.  And we delivered.  Here are the three new features we've created with YOU in mind!  And we've saved the best for last… number three is by far our favorite new addition!
Skip the reading and cut to the chase. Login or create your new account at app.mykomae.com right now!
1. Send a Reminder 
Perhaps you posted a request late at night when no one in your village was awake to see your need… and now they've forgotten. Or maybe it's coming down to the wire and no one has made an offer to watch your kids yet.  Either way, what you're looking for is a friendly way to let your village know that you still have a babysitting need out there and that you could use some help.  With this new feature, you will be able to easily notify your village of your need, without cancelling, re-posting, or sending messages outside of the Komae app.  And don't worry, friendly villagers… Komae will not allow you to use this feature more than every 18 hours.  We wouldn't want you to go all crazy, spamming your friends with text notifications now, would we? ;)  Be kind and use wisely.
2. Edit a Sit
Sometimes, plans change.  And other times, you get a text from your friend saying "Hey, if you change your sit to end a little earlier, I would be happy to help!"  With this new functionality, you can now edit a sit you've already created, rather than cancelling it and starting from scratch.  We're in the business of saving you time, and this does just that.
Do take note that if you edit a sit that already has an offer on it, that offer will be deleted.  But no worries, because that villager will be notified that you made a change, and they will have the ability to offer again, assuming they agree to the new details you submitted.
3. Post When You're Available
Want to earn some points, but haven't seen a request come in that fits your availability?  Going to be home friday night and want to host a playdate for your kids (and get paid in points for you!)? Now you're able to make your availability known to your villagers by clicking on "earn points," or on the little gift icon that you'll find in the floating action buttons.  Type in when you're available, click on "tell your village" and wait for requests to come in that you can put an offer on! The beauty of Komae is the cycle of reciprocity and the community it creates between friends and family.  And this feature is intended to be a catalyst to keep that momentum going!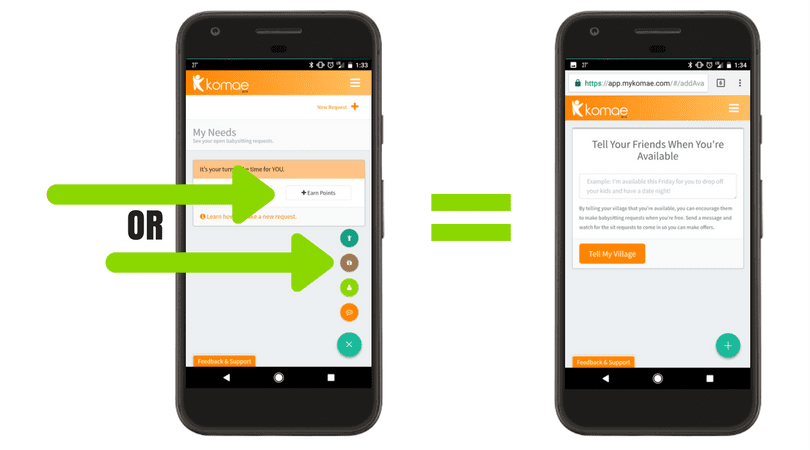 And as if those three new features weren't enough, as you may have noticed in these screen shots, our design got an upgrade as well! What you'll find on Komae is a more professional and sleek user experience that makes it easier for you to find what you're looking for, whether that is to fill a babysitting need, earn some points, or to grow your village!  So log on, check it out, and invite more friends to be part of Komae today!
Be sure to tell us what you think.  Even better… tell us what you want to see next!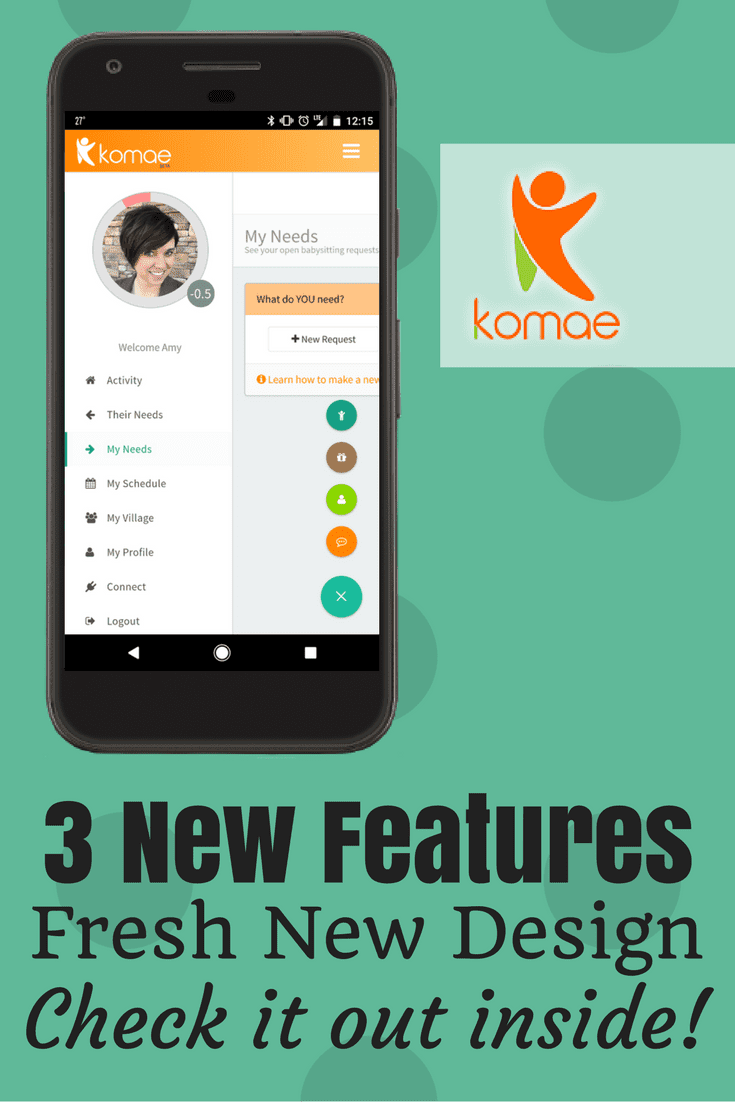 This error message is only visible to WordPress admins
Error: No feed found.
Please go to the Instagram Feed settings page to create a feed.
What are you waiting for?