If you're a human that's ever had any sort of success, right down to something as simple as cleaning your house or posting an Instagram photo where everyone in your family was dressed and had their hair brushed, you probably have heard the phrase "how do you do it all?!"  It's as if, for that very moment, you are a unicorn. And your friend wants to be just like you. And they assume that you've got it all together.
But girl… none of us have it all together. Truth is… everyone is failing at something.
What really blows my mind is when that friend who looks at me and says, "how do you do it all?" is the very same person that I've thought to myself, "how does SHE do it all?"  Because, friends, intentional or not, what we present to the world has an element of falsehood. And it's never the complete story. It is impossible to be good at everything and to do the balancing act of life without flaw.
So what do we do about it? I have two thoughts on where we could start.
Pull back the curtain.
Instead of keeping up the facade, let's talk about where we do fall short and own it for what it is. And above all else, do it without shame. I'll start. Here are just a few of the things I fail at in order to have the capacity to succeed at others.
I pay someone else to clean my house.
My husband cooks most (if not all) of the dinners in our home.
My kids get the same lunch packed for them everyday and it consists of PB&J and pre-packaged foods.
When I iron, I put more wrinkles into the clothes than I take out of them.
I do not own a cookie jar, nor do I ever bake cookies to put inside of it.
Celebrate. Don't Compete.
Next time you see the success of a friend come across your Instagram feed, celebrate them. Your natural instinct might be to roll your eyes, thinking "of course she looks that perfect when working out." But instead of giving into that jealousy (just calling it what it is), how about you celebrate that friend instead? Because I promise you… she IS failing at something. You just might not know what it is.
How about we lift each other up. Give each other more grace. Cheer each other on. And stop tearing each other down. How about we be the village and be better together?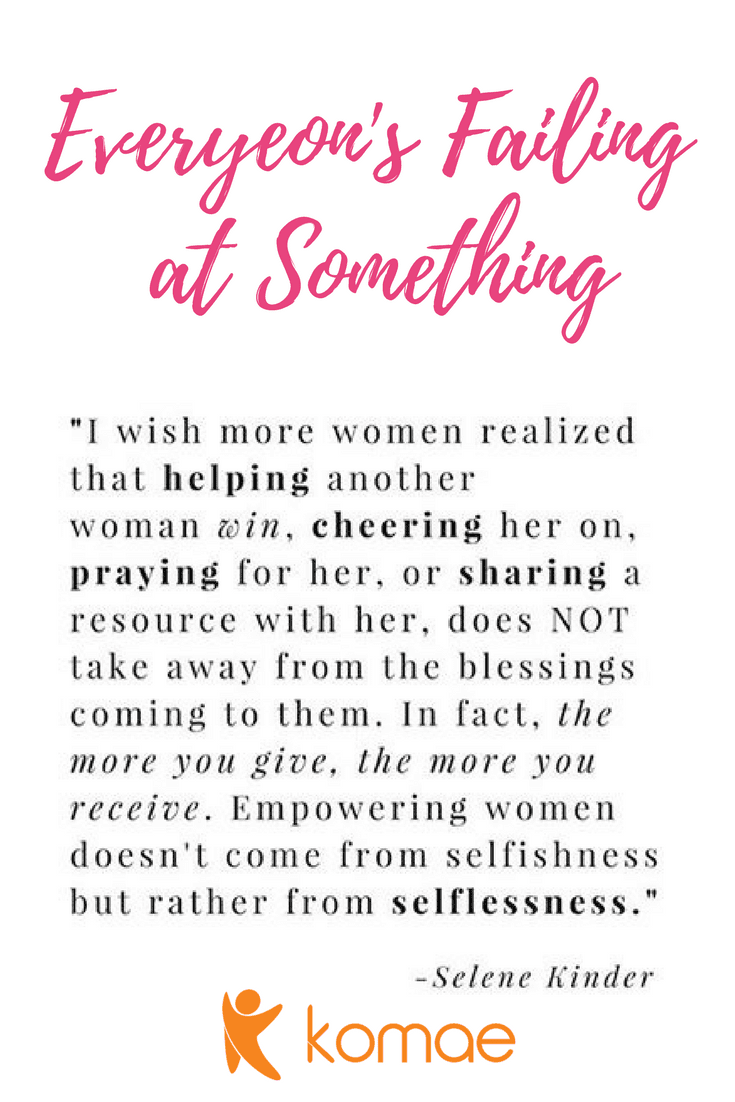 This error message is only visible to WordPress admins
Error: No feed found.
Please go to the Instagram Feed settings page to create a feed.
What are you waiting for?