You're probably wondering what the Co-Founder of Komae knows about the basics of cake pop decorating. Well, if we're meeting for the first time, you might not know that before Komae, I owned my own bakery, making personalized cakes and cake pops. La Hoot Bakery is actually one of the very reasons that Audrey and I founded Komae. We were both operating our own side hustles at the time and we knew there had to be a better way to do babysitting, so we started swapping sitting with each other. Then we started swapping sitting with 10 of our closest friends. Then we started thinking… how can we give free babysitting to the world?
Enter stage left… The Komae App.
But today, that's beside the point. Today I want to talk to you about how to make a delicious treat for your next girls night, birthday party, or indulgent moment where you just need to treat yo' self. 🎂
Cake Pop Basics
Perhaps you've seen the Babycakes Cake Pop Maker cross your radar and you've thought about picking it up and giving the world of cake pops a go. That is surely one way to get started, but if you're up for a more delicious adventure, I would like to share with you the basics of how to make cake pops the best way… that is, mashing them and rolling them by hand with frosting.
At first glance, hand rolling may appear intimidating, but trust me … and this comes from a perfectionist… any inconsistencies you create will be covered up when we get to the decorating phase.
So here we go… cake pops step by step.
 Bake a cake. Boxed cake. Household recipe. Vanilla. Chocolate. Something exotic. It's your choice!

 (Tip:  It is my personal preference to freeze the cake overnight, thaw it, then move onto step 2 because it makes the cake pops more sturdy.)

 Crumble the cake into pieces. Yes. So sad, right? But trust me…
 Add icing and mash together until you get a consistency like cookie dough to roll it into balls.
 Melt your chocolate of choice.
 Dip the tip of the cake pop stick into the chocolate and insert into the cake ball 3/4 of the way.
 Let the cake pop sit with stick in the air on wax paper to harden and seal the stick and cake ball together.
 Dip the cake pop gently into the melted chocolate. Do not swirl it around, that will cause it to fall off the stick.

 (Tip:  Dip it in, pull it out, let it drip… no more, no less.)

 Sit cake pop upright in your choice of cake pop stand to let dry.
Cake Pop Decorating
Now that you've got some cake pops rolled, dipped, and dry, it's time to add some bling! This is my favorite part of the process, because seriously… you will be surprised at how much a simple drizzle or sprinkle can cover up a lumpy, imperfect cake pop. And to get the perfect drizzle, I use a Wilton 3 Icing Tip
and a Wilton 10 Inch Piping Bag
.
 Fill bag with melted chocolate
 Grab a cake pop and hold it horizontally over wax paper
 Let the chocolate flow out rotating the cake pop until you're happy with the coverage
 Add sprinkles on top of the drizzle
 Sit the pop upright back in the cake pop stand
 Voila!
(Note, if you want to do the sprinkles like the red and white cake pops below, you will need to add those during the drying phase in the basic steps above.)
If you want to take these decorating tips one step further, hop on over to my blog with La Hoot Bakery and take a trip through past projects of mine. I'd love to hear which designs are your favorites!
Let's Make Cake Pops One Step Easier
Skip the stick and you can dunk the cake balls in chocolate, pulling them out with a spoon, drying on wax paper, and displaying them in a muffin liner when serving. It's all about personal preference, girlfriend. And really… who cares what they look like as long as they taste divine!?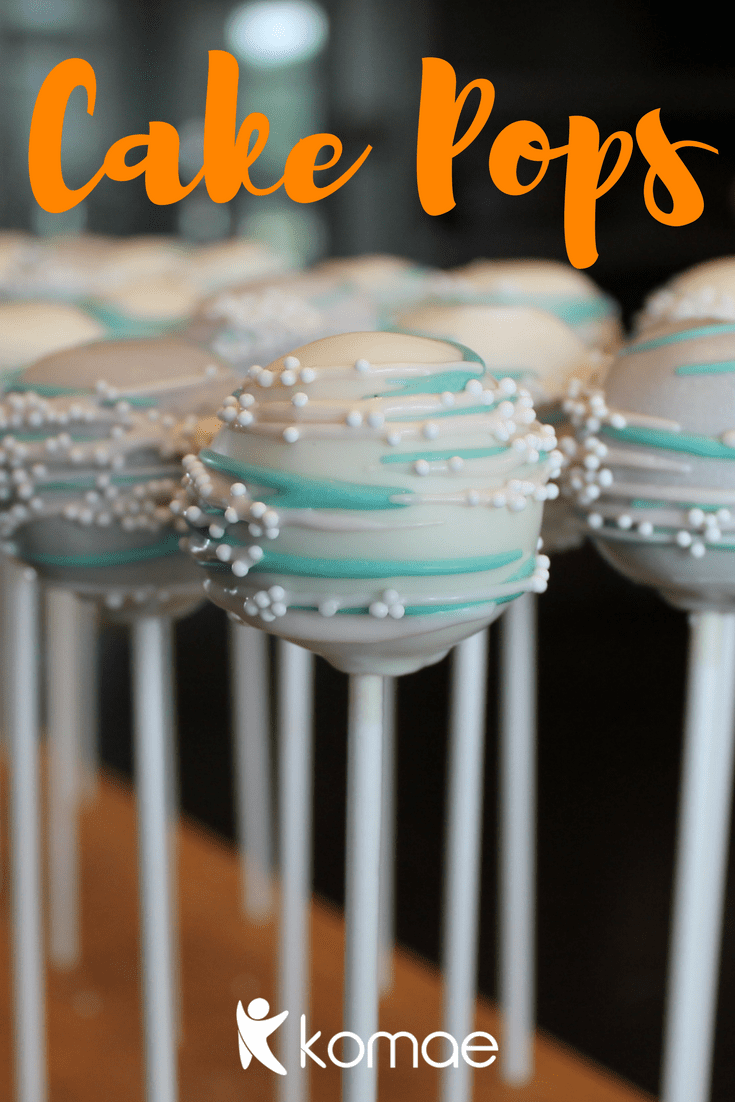 This error message is only visible to WordPress admins
Error: No feed found.
Please go to the Instagram Feed settings page to create a feed.
What are you waiting for?