Hey friends. Amy here… Co-Founder of Komae. If you follow us on Facebook, I do hope you've seen our Facebook live where Audrey and I do a battle of the brands between Aldi and Whole Foods 365. If you haven't, you need to watch it below, because it is a riot. We just got a Whole Foods 365 and I'm telling you… everyone in town is bantering about where we should be doing our shopping. So in an effort to settle the debate, our marketing specialist, Katherine, gave Audrey and I each a list of 10 items to shop for at our respective stores and then we came back together on camera to talk about our experiences.
We learned that there are three main factors to consider when shopping for your groceries…. time, cost, and fun. (Yes, fun. I mean, are we the only ones who take a vacation to the grocery store without kids in tow?)
The Time Factor
Ok, I need to tell you… I am a MASTER at getting in and out of the grocery store. It is commonplace for me to get in and out of Aldi in 15 minutes flat with a full week's worth of groceries. If there were an obstacle course designed around grocery shopping, I'm telling you, I'd come in 1st place. (Wait a minute… wasn't there an old 90's TV game show like that?)
I digress…
Anyhow, this trip was no different. I clocked my time shopping for my list (on a busy sunday afternoon I might add) and I was in and out and leaving the parking lot 13 minutes later. Audrey on the other hand took 29 minutes. Because why be fast when you can stroll around with some local Artisan coffee while you're faced with 6 cases worth of milk choices?
Yes. That's right. Six full cases. Analysis paralysis much?

The Cost Factor
Aldi is allllll about cost savings. Even if it means needing a quarter on hand to get my cart and that I need to bag my own groceries, I'm on board. Because how can you NOT be on board when you can get a carton of eggs for 33 cents, people?
Now that Whole Foods 365 has arrived on the scene, there's a lot of talk about how their prices compare to Aldi. As you saw in our Facebook Live above, we put this to the test and found Aldi to come in at 50% the cost of Whole Foods 365. But our viewers wanted more. They wanted to know how prices compared if you shopped from the organic food choices at Aldi, as compared to simply getting the least expensive product. So I popped back to the store, did some price checks, and am excited to share the results with you.
Disclaimer here, friends… Not all of the products purchased were the same size. In fact, you can assume the Aldi Non-Organic products are larger quantities than either of the columns. We weren't going for perfection. We were going for a ballpark figure to get a friendly gauge on what you'd spend at either location.
So all-in-all, if you're shopping purely based on price, Aldi wins whether organic or not. But I will say… I was quite surprised that I was able to buy an organic item at Aldi for EVERY single item on the list (This excludes trash bags. If you want to go buy 12 compostable trash bags for $6.00 at Whole Foods 365, rather than 80 traditional trash bags at Aldi, be my guest!). But really, Aldi's organic game is high. I was impressed.
The Fun Factor
I'm a woman of efficiency, so fun is never on my radar when running errands. But Audrey here is a different breed, perhaps like some of you. I mean, if you have to run errands, you may as well have a good time doing it, right?
If you agree, then Whole Foods 365 is the place for you. First, you get to make your own peanut butter. How cool is that? Not to mention the cowbell, air guitar, local coffee shop, and restaurants you can find inside. Whew. I think I'm missin' out!
So what do you think friends? Is the cost of Whole Foods 365 worth the array of choices and the fun experience? You tell us!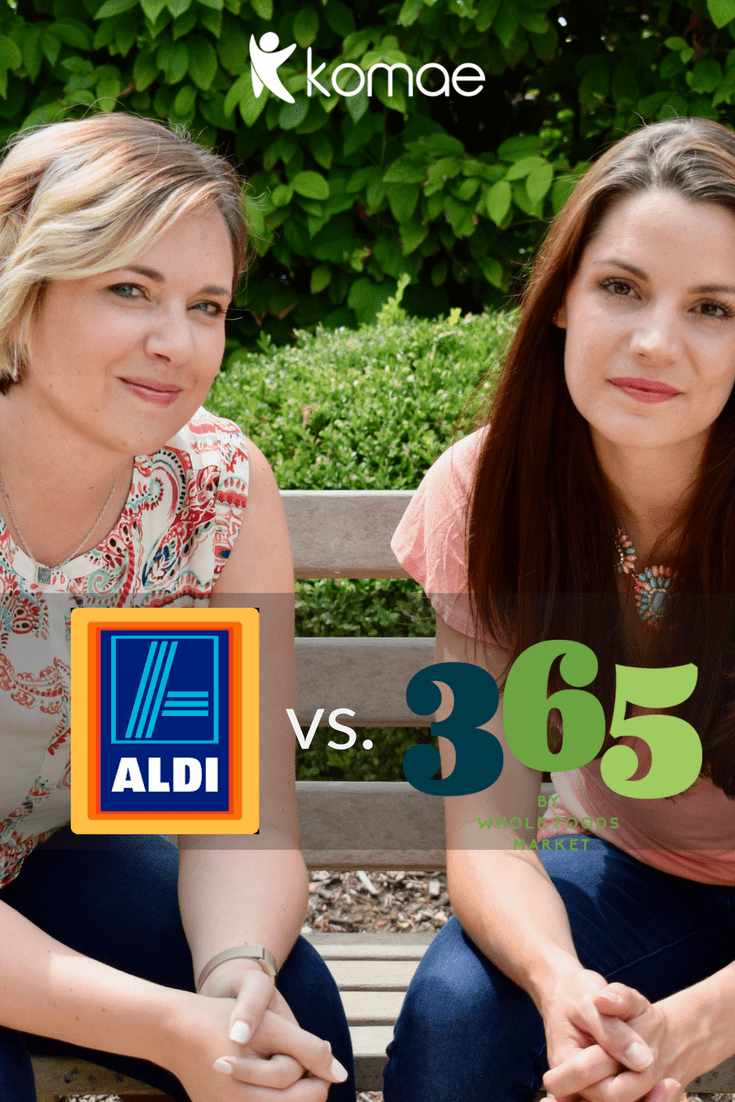 This error message is only visible to WordPress admins
Error: No feed found.
Please go to the Instagram Feed settings page to create a feed.
What are you waiting for?