Twenty Four Hours, Ya'll.
I just spent 24 hours in a minivan with my family of four on a family road trip adventure between Ohio and Colorado for Thanksgiving. Is there a badge for that?! If so, my husband and I earned 24 of them, times two. Because the drive was 24 hours each way.
And guess what? It was AWESOME! Since many of you will be buckling down for long car rides throughout the holiday season, I want to share what I learned to set you up for awesome on your next family road trip, whether it's 2 hours or 24. Here are my top 7 tips.
1 | Pick a Pack
Let each kid pick a backpack to fill with their favorite things. If it fits in the backpack, they can bring it. This gives them the freedom of choice while limiting them to the 2,000 cubic inches of their pack. And it must zip! Therefore, all their treasures are contained.
My top tips for what to put in the pack:
Clipboard

for a strong drawing surface.The kind with the compartment for holding paper is a bonus!

Colored pencils

in a zipped bag with a sharpener. NOT markers! You can guess why :)

Paper. Lots of it! For drawing, tic-tac-toe, hangman, airplane folding, and more!
Coloring books
Reading books
Magnet shape tiles.

They stick to each other making them hard to spill or get lost in the cracks!

Toys

that are small and without batteries and noise. You'll thank me later for that.

Favorite stuffies or blanket.

I repeat: it must zip! This prohibits any huge stuffed animals from being drug along.

2 | Snacks
The most common complaint will be that they are hungry. When road tripping, on-the-go food options tend to be expensive and, quite frankly, bad for your bod. Since you're stuck in a car, it's best to fill your body with fresh, healthy options instead of processed junk food filled with preservatives. Believe me, that is hard for me to say because Twizzlers and Cheetos are my two favorite road trip snacks!
We learned this lesson the hard way. On the way there we ate at Hardees way too many times and ended up making way too many bathroom breaks and felt bogged down by the time we got there. On the way home we packed fresh sandwiches, apples, and nuts to keep our bodies fueled. This minimized the number of stops- both for food and for the bathroom!
3 | Look Out
With long trips it can be easy to forget to look outside! Especially if your eyes are glued to books or screens. Classic family car games like I Spy, The Alphabet Game, and License Plate Hunts are a great way to get your eyes out the window and enjoying the scenery. With young kids, these games typically result in lots of belly laughs because kids say the darndest things!
4 | Podcasts
You may not be able to exercise your body during a family road trip, but you can exercise your brain! Our favorite fun-for-the-whole-family podcast is called Brains On! Their tagline is "We're serious about being curious." Our hands down favorite episode that every family should listen to is called Fart Smarts: Understanding the Gas We Pass. Now, if that doesn't pique your interest, I don't know what will!
5 | Seriously, More Snacks
Did I mention snacks? Running out of fuel for your kids' mouths is borderline more risky than running out of fuel for your minivan. Plan healthy snacks ahead and avoid the drive through and gas station snack bar at all costs!
6 | Neck Pillows For All
Quite honestly, your main goal should be to sleep. The kids should sleep. You should sleep. (Only when you are not driving, of course!) And there's nothing worse than a neck kink from awkward car seat sleeping positions. You'll pay for that for days. Treat yo' self to a good neck pillow. I like the new inflatable kind because they store nicely when not in use. Super pro tip: throw in some of those little foam ear plugs for ultimate silence during your turn to sleep!
7 | Share Don't Spend
Our family minivan does not have those fancy little TV screens. We did that on purpose to avoid what would surely become a daily battle of "Can we watch?" on every little daily drive around town. However, I am all in for a couple hours of vegging on a several-hour-long family road trip.
Since we don't have built in screens and we don't road trip often enough to warrant buying the kind you can strap to the headrest, I asked around and borrowed from a friend. Share don't spend is the Komae Way, after all! What other things can you borrow instead of buy?
———-
Road trippin' with kids is a major Rite of Passage for parents. And I hope your family adventure is as fun as ours was!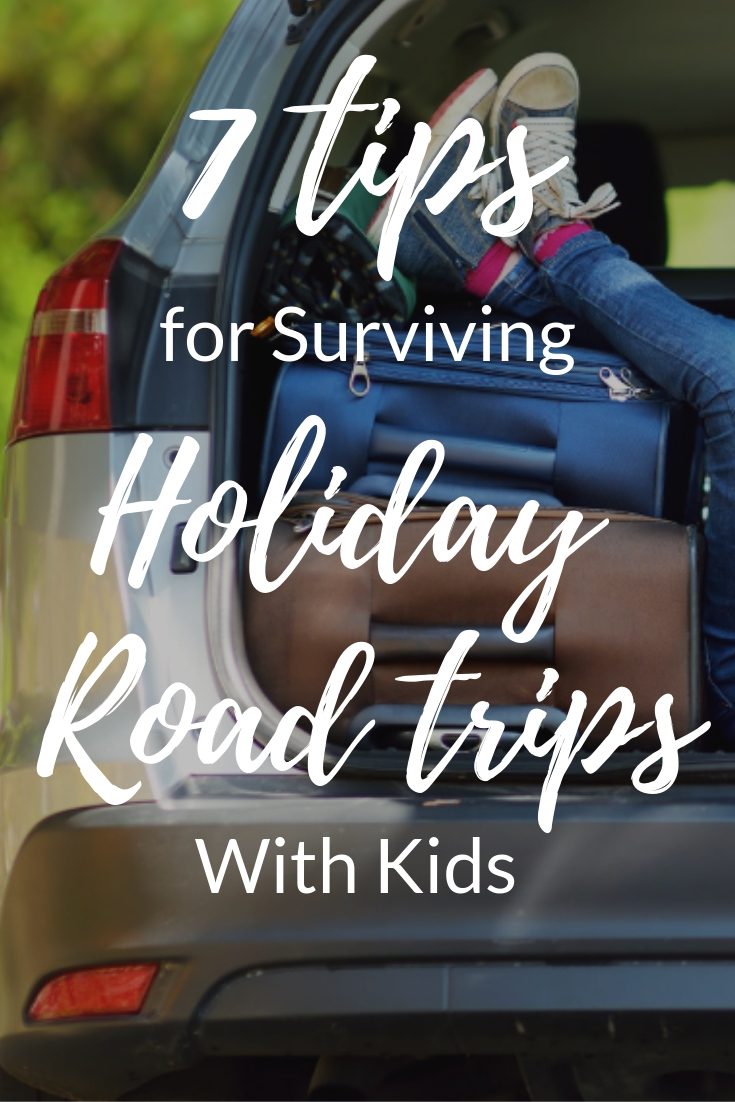 This error message is only visible to WordPress admins
Error: No feed found.
Please go to the Instagram Feed settings page to create a feed.
What are you waiting for?