Are you looking to make some extra income? Whether you're a stay-at-home-mom or just trying to make a little extra on the side. Well really – who isn't these days! "Side-hustling," as I like to call it, can come in handy if you're looking for part-time, short-term (or even long-term) gigs. And the best part is they can all be done anytime and from anywhere! All you need is a reliable PC or mobile device (and maybe a beach chair☺).  
While there are many flexible-earning opportunities out there, the 5 that have worked best for me over the years are listed below. I'll even share the amount of extra income I've made from each to date. While this is not what I would consider "hard" work, it does take a little time to get used to the flow depending on the gig, but once you're in the groove it really is easy money. These are by no means the only side-hustles I partake in, but they have been the most lucrative for me.
Upwork
I joined Elance (now part of Upwork) in 2008, and completed over 100 projects in the last 10 years. There are both long-term and short-term assignments for every skill you can think of. Since I have a strong background in writing and marketing, those are typically the types of projects I take on. Since 2008, I've made $43,000 from various projects on Elance/Upwork. And I have made so many amazing connections here, with employers who contract with me directly now instead of going through Upwork. That income is not even included in the figure above.
Ebay
I joined Ebay in 2002 when I started to resell my daughter's baby clothes. Since everyone (including me) insisted on dressing her like a doll, she had SO much brand-name clothing, and of course outgrew most of it very quickly. So one day when she was about 6 months old, I decided to check out Ebay to see if I could sell her clothing. I was shocked at what I found. Now this is going back 16 years, BUT back then I would actually make about 70% on a used article of clothing in excellent (but used) condition. That's crazy! Now the profit margin has decreased due to more competition on Ebay and other marketplaces, and Ebay has increased their fees, but honestly I still make a decent side-income from Ebay sales. I will write more posts on my Ebay experiences, as there's a lot to share on this one. Since 2002, I've made $52,765 from selling just my own, used products on Ebay.
Online Surveys
I began taking online surveys for money back in 2012. I haven't made a ton of money here, but it's really easy work, and it's always nice to receive a $100 check in the mail for not really doing much!  There are many survey companies to choose from. I would recommend starting with the following as they seem to pay more and post surveys more frequently:
 Since 2012, I've earned $3,100 from taking online surveys. 
Freelance Proofreader
I started with Caitlin Pyle's free 7-day course which was great and got me off to a great start. Check it out!  Since 2015, I've earned $5,780 from various proofreading gigs.
Create Something and Sell It
About 5 years ago, I started making my own bath soaps and gave them away as gifts for friends and family. Everyone loved them! So – I decided to amp it up a bit, and actually package and sell them. Today, I work with a company that produces my soaps for me, and I sell them online and in various local settings (local stores, craft shows, etc). I have actually done pretty well considering I really don't put a ton of time into this! I even decided to do soap party favors and this has really taken off in the last year. If there's something you like to do or are good at, think about it! Since 2015, I've earned around $6,000 from selling my soaps and bath products, but this is rapidly increasing due to a recent update to my products and website.
Side hustling to earn your family some extra income is totally doable, especially with the help of Komae. When Komae provides you with free babysitting, you have more time to focus on what you want to do, without spending any money to do so. So take that time to get creative or work on a few surveys to earn your family some extra income. Komae and your Village has your back.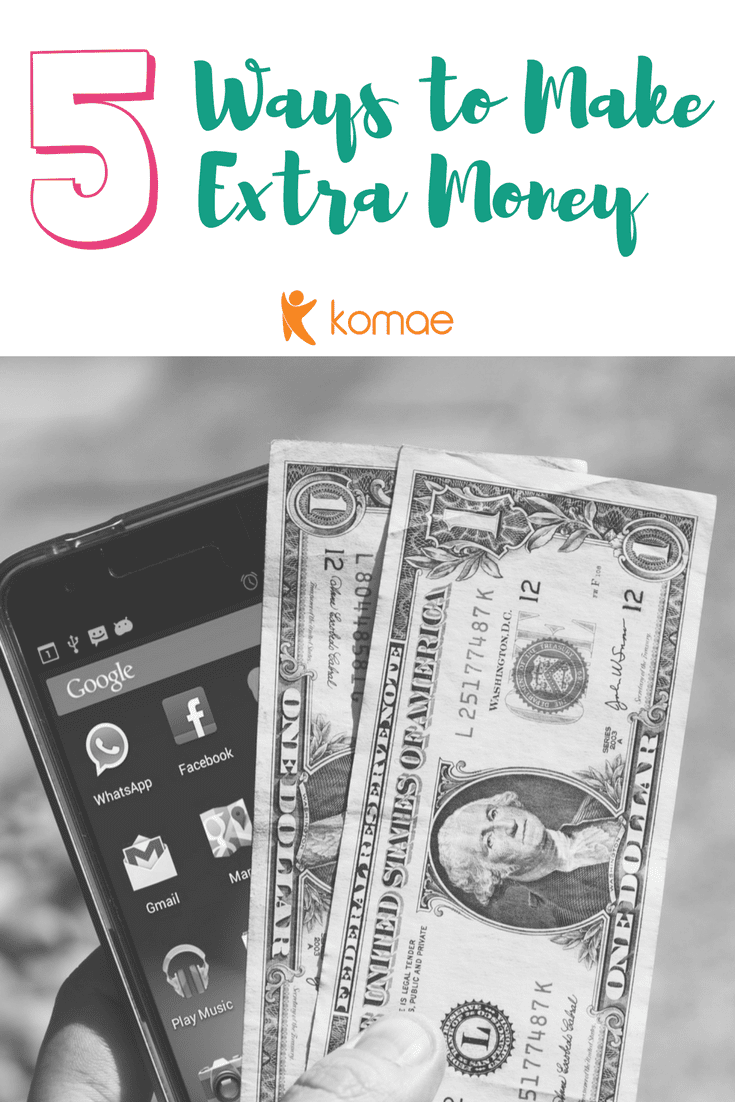 This error message is only visible to WordPress admins
Error: No feed found.
Please go to the Instagram Feed settings page to create a feed.
What are you waiting for?