There are women who know from a relatively young age that their purpose on earth is to be a mother, and then there are women like me without a maternal bone in their body. Or so I thought. Before having my beautiful baby girl, I had ZERO experience with babies, wasn't exactly fond of children, and had never held a newborn. I WAS TERRIFIED at the thought of having a human life in my hands, but don't worry, this story has a happy ending.
I survived not only my first month of motherhood, but four more after that, and now I have a crazy amazing five month old! I'm going to share five tips that helped me survive my newborn and get past the intimidating new baby stage.
1. Ask for help!
Please don't be ashamed to ask for help. Utilize family, friends, and anyone that is willing to help so you don't have to do this alone! I don't know where I would be without all of the wonderful ladies in my life. Like I said before, I had absolutely no experience with children before my baby was born. I've learned so much in the past few months and still have a lot more to learn!
This is why I love Komae so much! Komae helps you build your own Village of wonderful parents that you know and trust for help!
2. Try to stay calm!
I can probably think of three million times I've flipped out because I didn't know what was going on with my newborn. I can assure you, it is not helpful to the situation. If you're like me and tend to get ahead of yourself with ten thousand questions, "Why is she crying like that?", "Should her poop be that color?", "What does this kid want!?", try to take a deep breath and relax.
Getting yourself worked up won't make things easier, especially with a crying baby. Everything will be okay!!
3. Sleep when baby sleeps!
Right before giving birth, everyone would tell me to make sure I rest when baby rests. I didn't really understand the importance until I had a reverse cycling baby waking up every 1.5-2 hours during the night. I was so exhausted during the day but continuously tried to "get stuff done" every time my babe slept. BIG MISTAKE!
Before I knew it I was completely run down, frustrated, and cranky. Let me tell you, cranky baby + cranky mom = not a pretty site! Once I was able to slow down and allow myself a nap or two during the day, I was in much better shape.
I was actually able to get more done and be a better mama for my babe.
4. Don't be too hard on yourself!
No mom is perfect, so don't shoot for perfection, just do your best. This can be super hard for new moms, especially when you don't know what the heck you're doing! I had to give up breastfeeding about a week after birth because my babe wouldn't latch and it was devastating, I felt like I was failing her. But, once I realized that bottle feeding wasn't the end of the world, I sucked it up and guess what, WE BOTH SURVIVED!
Try not to stress the little things because you can't control everything, and remind yourself of just how awesome you really are!
5. Me time, me time, me time!
I know.. "me time".. what the heck is that? I promise it exists, with a little bit of effort. Whether it be a shower, an episode of your favorite show, or if your really lucky some time to paint your nails, make sure you find time to escape the craziness.
Having some alone time will help keep you sane, and YOU DESERVE IT!
Having a new baby is pretty scary, but if I can survive a newborn anyone can! Try these five tips to help make surviving your newborn a little easier. & just remember, you got this mama!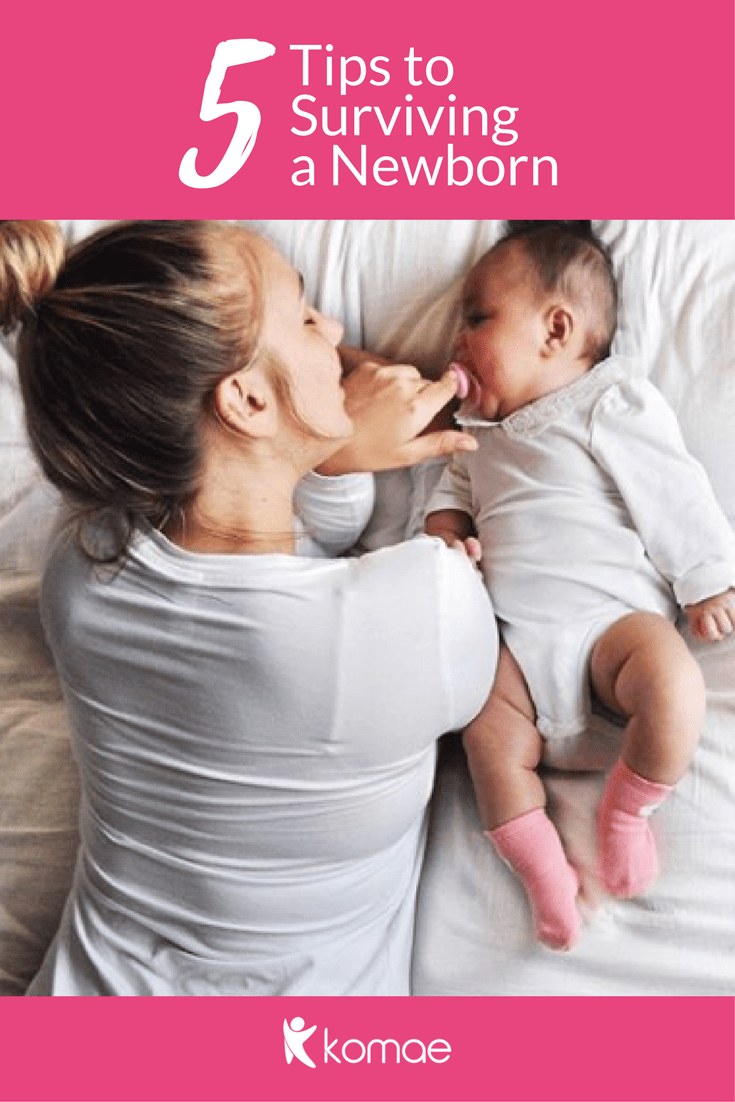 This error message is only visible to WordPress admins
Error: No feed found.
Please go to the Instagram Feed settings page to create a feed.
What are you waiting for?