Date night. Longingly sought after. Highly anticipated. But difficult bringing to life.
When it comes to dating our spouse, making it a priority to get out of the house together on a regular basis is difficult. Making plans that will bring us back to our younger years of puppy love and creative adventures? Unlikely. Making time and putting in effort to break our regular routine is not easy. So today, I want to talk to you about three ways you can spice up your date nights in and find young love again!
Get Dressed
This one's for the ladies… I'm sorry, but there is a time for yoga pants and a time for real clothes. I know we don't want to believe it, but it's true. Don't worry friend, I'm pointing the finger at myself as well. I will get myself all dolled up for a girls' night out, but when it comes to a date night in with my husband, I default to yoga pants, a sweatshirt, no make-up, and a pony tail.
Next time you're about to spend some quality time with your hubby, I challenge you to step it up. You can still keep it simple with some leggings, a cute shirt, a scarf, some dangle earrings and a splash of fresh makeup. And if dressing up isn't your style, then go full throttle in the other direction and dress down. All the way down if you know what I mean. ;)
Get Focused
How often do you just sit with your spouse and talk? In the quiet? Without distractions?
If you're anything like me, finding time for conversations that aren't interrupted by "Mommy! Daddy! I need…" is not easy. Being married with kids can make it hard to connect in a valuable way. Make your date night in a time where phones are put away, TVs are turned off, kids are sound asleep in bed, and you're focused on each other. Grab a bottle of wine, and get to talking about your week. From things that have upset you to things that have made you happy. Talk. Laugh. Cry. Whatever the night brings. Just be present.
Get Creative
So now that you're dressed up and focused on some quality time with your spouse, what's next? If you're tired of the same old routine, I want you to check out Datebox. This company is so cool, bringing back the magic of date night by sending you a date… in a box. They make the plans. They send you the supplies. All you've got to do is open it up and have a good time.
Kiss your boring dates goodbye. We create unique, exciting dates you can't get anywhere else. We even include a custom playlist & conversation starters for your date. Sweetness. – Datebox
I mean… how cool is that?
The Datebox team was generous enough to offer us a sample box to share with our audience and let me tell you… it is super cute! This month's box came with a date guide including all things necessary to enjoy heart shaped pancakes, fresh squeezed orange juice, good music, and inspired conversation over a game of Monopoly Deal.
Check it out and let us know what YOU think! Will you be subscribing for some creative monthly date nights in?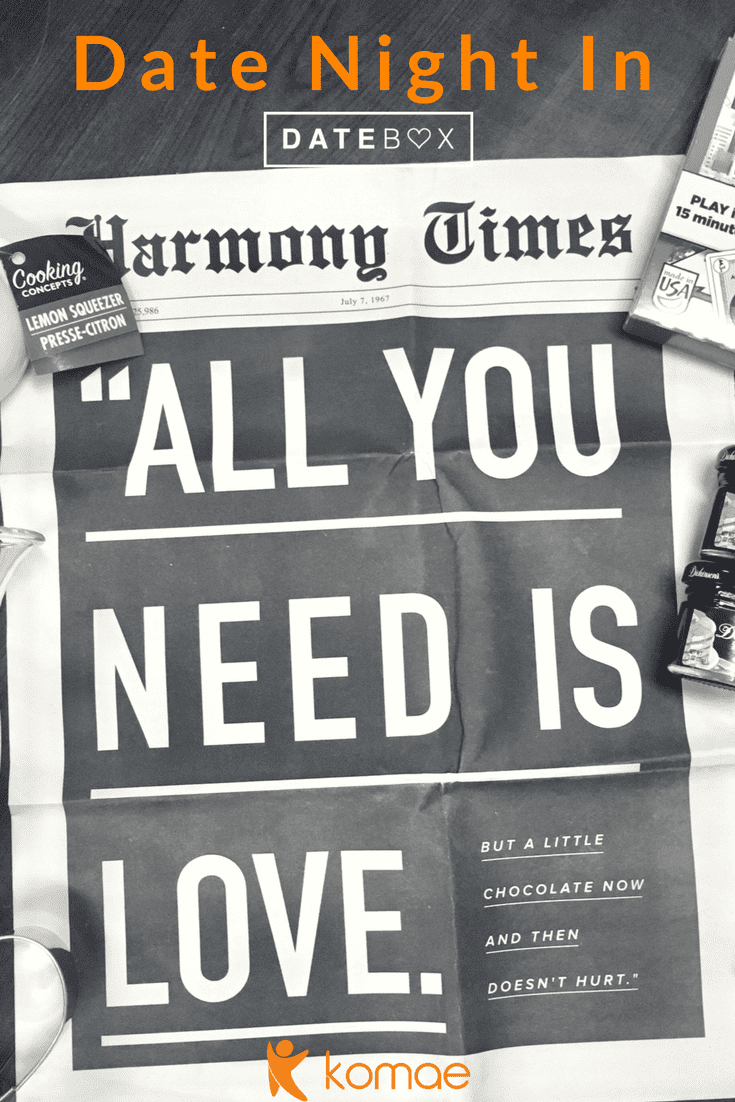 This error message is only visible to WordPress admins
Error: No feed found.
Please go to the Instagram Feed settings page to create a feed.
What are you waiting for?